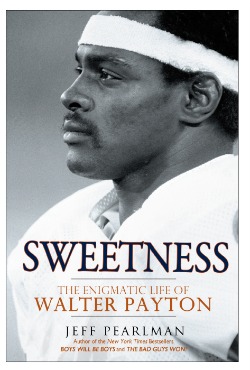 Posted by Josh Katzowitz
Jeff Pearlman knows about controversy. He was the
Sports Illustrated
writer who penned the John Rocker piece in 1999 that will forever define the rest of the former Atlanta Braves pitcher's life, and though Pearlman simply quoted what Rocker said and all his prejudices and racially-charged thoughts, Pearlman also took plenty of heat for the story.
But that story doesn't define Pearlman. He's a
New York Times
bestselling author (if you haven't already, you should definitely check out
Boys Will Be Boys
, the story of the 1990s Dallas
Cowboys
and their amazing penchant for winning and partying), and he's a well-known freelance writer with
an always-interesting blog
.
His current book,
Sweetness: The Engimatic Life of Walter Payton
hit bookshelves this week, and after a
highly-charged excerpt
appeared in
Sports Illustrated
, Pearlman has faced criticism that has surprised him, especially since most people who are bashing the book haven't had the chance to read it.
We caught up Pearlman on Wednesday, and we talked about his reaction to the public's reaction, whether the controversy will help sell books and how he continues to write the negative knowing that it will affect Payton's family.
Previous Five Questions (or more):

Sept. 16:
Actor/former
Patriots
DB Brian White
Sept. 30:
Bills
RB
Fred Jackson
1. CBSSports.com:
Knowing how much time you put into the book and how long you spent on it, what did you think of the reaction to the excerpt? It's only a few pages out of a huge book, but you've been in the middle of this huge controversy.
Jeff Pearlman:
It was kind of hurtful. It's funny. People are like "Of course he knew it was coming," but I really
didn't
see it coming. Maybe I'm naïve. It was a blind side. The backlash was hurtful. I put a lot into this. You write books and inevitably over 460 pages, there will be little things that happen. There will be little misspellings. There will be small errors. It happens. I can accept all those things. But this was so charged. It reminded me of the Dixie Chicks when they spoke out about (President) Bush. It didn't become what the Dixie Chicks said about Bush, but it was just about being mad at something. Nobody had read the book and people were furious. It was one excerpt from one chapter. I felt like I was drowning.
CBS:
How did the excerpt get picked? Was it you working with your editor, or was it you saying, "This is what I want it." Because I imagine this kind of publicity probably will help book sales.
Pearlman:
Actually, I don't (think it will help). SI picked the excerpt. They have the first rights. But I've written for them for years, and I love
Sports Illustrated
. The editor said, "We're going to pick this," and I said that was fine. I can't be like, "How dare they?" It wasn't my first choice. But I was OK with it. I feel like I've lost Chicago, and I've been working to try to win them back. There are still 49 other states and Canada, but Chicago is a good book-buying city and this was his home base. I think people decided early on, "Here's this jerk trying to destroy Walter Payton."
2. CBS:
Do you think your John Rocker story led people to believe that? Because then they could just see that "Pearlman is just a jerk."
Pearlman:
I don't think so, only because I haven't heard it mentioned that much. I don't think it's been that big a factor.
3. CBS:
Why Walter Payton? He's had books written about him before. Why choose him?
Pearlman:
I had finished a Roger Clemens biography, and it was the least favorite of the books I've written. I wanted to write about somebody completely different. You mentioned John Rocker before. I sort of have a reputation for being that guy who gravitates toward negative things. But Walter was different. He's so iconic but so mysterious. I mean, no one even knew how he got his nickname. When he was eulogized at his funeral, they said he was 45 years old. He was actually 46. At the College Hall of Fame, when he talked about finishing fourth for the Heisman, he actually finished 14th. When people talk about Walter Payton, they go to (his former wife) Connie. People don't know this, but they weren't together for the last 10 years of his life. That's not a knock on Connie; that's just the way it was. He was very mysterious.
CBS:
Did you know this negative stuff going in?
Pearlman:
I didn't know anything about him. I would have been thrilled if he would have had no scars whatsoever. I found him so fascinating. He was easily the most interesting athlete I've written about.
4. CBS:
When you're writing this book, you must know how the family is going to feel when they read some of the negative stuff. How do you push yourself through that? How do you process that in your mind so you can keep writing?
Pearlman:
I always feel bad about it. I feel worse about it when the book is about to come out. It all feels really hypothetical when you're working on the book. It's always a year or two away from coming out. It feels so far away. When the book is about to come out, you realize that real people are about to be hurt. They're going to be sad, shocked, disillusioned. But your ultimate job is to write a definitive, all-encompassing biography about something. That's the whole person. It's not another ass-kiss to an athlete. Not a sports book but a life book. If it was about my dad, I'd be really hurt by that. But as a biogprapher, you're sensitive to those feelings. You'd be doing a huge disservice to the biographers.
There are times in this process when you really question whether this is what you should be doing. It's certainly not my goal to damage people or make people feel horrible. I always ask this of my wife: "Am I doing something that can be justified?"
CBS:
Do you think that once people read the book, they can kind of forget about the excerpt and about how angry they were?
Pearlman:
I think people who read the book will. People who ignore it or will have have nothing to do with it, I can't do anything about those people. I worked hard on this thing. I really think it's a fair book.
5. CBS:
So, what's next for you? After working on this for almost three years, what do you do now?
Pearlman:
I don't really know. I promote this book for a couple weeks. I guess I have to find the next project. I'm pretty burnt out with this work and the immediate reaction to it. I've never felt this way after a book. I can barely lift my head off the ground. I have no idea.
For more NFL news, rumors and analysis, follow

@EyeOnNFL

on Twitter and subscribe to our
RSS Feed
.