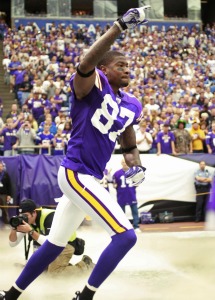 Posted by Josh Katzowitz
What do you get when you combine a receiver who's made exactly two catches in the first four games of the season with a Twitter user who insulted a Minnesota state legislator who happens to be a permanently-injured war veteran who also has been a big supporter of a new stadium for the
Vikings
? You get a deactivated
Bernard Berrian
.
It sounds like his benching could be a punishment for
his Twitter war
with state legislator John Kriesel. After Kriesel ripped Berrian after Berrian complained on his feed about not being targeted enough by Vikings quarterback
Donovan McNabb
, Berrian responded by writing, ""Anytime u wanna watch the film with me. Not just one game but all of them. ... and if not sit down n shut up!!"
The problem with that exchange was that Kriesel has no legs, a fact Berrian didn't know at the time. He later apologized to Kriesel, and Kriesel said he was not offended or upset by the exchange, saying, "I'm a big boy. I can handle myself. I ripped him, he ripped me back. We had it going back and forth on Twitter a little bit. I have fun with Twitter. I'm over it. I was never offended by it."
But it seems like the Vikings organization
was
offended, particularly since the reason the exchange began was because Berrian was complaining about his role in the offense.
"I have talked to Bernard and we do ... matter of fact Bob (Hagan, the Vikings director of public relations) and some of our PR people actually talk with our team once we come to training camp," Frazier said this week, via
ESPN 1500
. "Just about social media and what our relationship should be with social media.
"It's something we've talked about, something we'll continue to deal with and talk about. Bernard kind of knows where we stand on that issue and we'll move on from there. ... We want to make sure that our focus is on football and trying to win football games. I think going forward he'll handle things the right way."
For more NFL news, rumors and analysis, follow

@EyeOnNFL

on Twitter and subscribe to our
RSS Feed
.