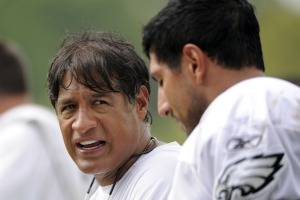 Posted by Josh Katzowitz
It still boggles the mind that after firing defensive coordinator Sean McDermott after last season,
Eagles
coach Andy Reid moved offensive line coach Juan Castillo to McDermott's old spot. And it's been kind of fun to point out the inadequacy (so far) of that move, considering Philadelphia's defense -- even with highly-regarded new acquisitions like
Nnamdi Asomugha
,
Jason Babin
and
Dominique Rodgers-Cromartie
-- has been underwhelming this year.
Try tied for 26th in the NFL with 26.4 points allowed per game.
But the
Philadelphia Inquirer
has an interesting theory why Castillo might have been Reid's only choice: basically, it states that, since Reid was so intent on implementing a new wide-nine* defense, other defensive coordinator candidates who would have had to do Reid's biding in playing with that defense might have balked at the idea and said no thanks.
*This is the scheme where the defensive ends are split out wide, on the outside of the opponent's tight end, and their goal is to disrupt the pocket with speed rather than trying to move offensive tackles with strength or footwork.
"What probably happened as the Eagles defensive coordinator search turned farcical was that interviewed candidates balked at the idea of coming aboard with the stipulation that the wide nine would be used here -- take it or leave it," writes Jeff McLane. "There aren't many coaches that use it, although it has been around in one form or other for many years.
So that left Juan Castillo. And, well, Castillo would do whatever Reid and (defensive line coach Jim) Washburn wanted. He was an offensive line coach wishing to become a defensive coordinator. Castillo would have agreed to the wide nineteen."
As McLane suggests, Washburn might have been another obstacle. Reid hired the well-respected Washburn away from Tennessee specifically so he could help install the wide-nine. This was before Reid had even hired a defensive coordinator. Considering Washburn was on to stay no matter what, that also would have taken away from a new coordinator's autonomy in hiring the coaches he wanted.
While Babin and defensive end
Trent Cole
have performed well split out wide, the linebackers have done a poor job of tackling, leading to the benching of
Casey Matthews
and safety
Kurt Coleman
. But the real problem, the newspaper writes, is that Reid has not given Castillo the appropriate parts to play successfully with the wide-nine.
Yet, Reid told reporters this week that he's sticking with the wide-nine, because he's saying that it worked. For proof, he points to the second half of last Sunday's Buffalo game when the
Bills
were held to a field goal for the rest of the game after starting the second half with an 80-yard touchdown drive.
"You obviously saw it work in the second half very effectively," Reid said. "We've just got to continue to work with it. Listen, anything new you've got to work with and work out the wrinkles and get it right."
"Players, they have to learn it, coaches have to learn it, particularly the new coaches. So it's a joint effort there."
Yes, but if the Eagles don't improve -- they are, after all, a stunning 1-4 -- it might not be Reid's call after this season. Because Reid is not 100 percent certain to survive if Philadelphia's wide-nine doesn't start producing better results relatively soon.
For more NFL news, rumors and analysis, follow

@EyeOnNFL

on Twitter and subscribe to our
RSS Feed
.