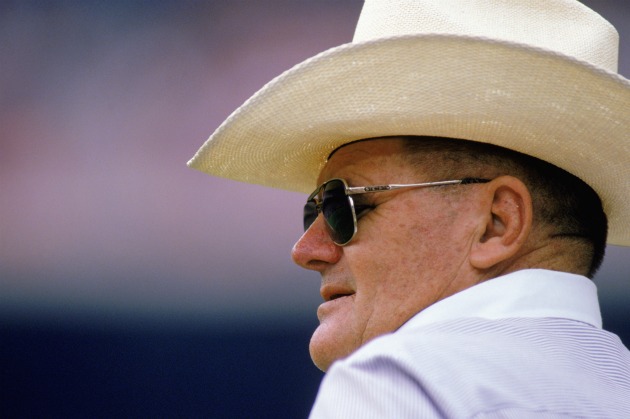 Posted by Josh Katzowitz
With the death last Saturday of
Raiders
owner Al Davis, we got to see a side of him that most people under 35 never got to experience. When Davis was an innovator, a kick-ass coach and owner, a fighter against The Man and one of the most important figures in NFL history. It was nice to be reminded of that with tributes all over the Internet, newspapers and in NFL stadiums on Sunday.
Maybe we didn't think about it in terms like this, but Davis, though largely reclusive to the public, was a living legend, and in the final years of his life, we probably didn't appreciate him as much as we should have.
That said, here are 10 other living legends who hold (or who should hold) a special place in the league's heart. No matter what they've become today -- those who are outspoken for and against their old teams, those who spend their time behind the scenes, and those who have disappeared for now -- it's not too late to show them our appreciation for all the good they've done and the lives they've led.
10. Ron Wolf:
Another of Davis' protégés, Davis gave Wolf a job as a scout for the Raiders in the early 1960s, and after helping the Raiders to a plethora of wins, he helped set up a 1979 division title in Tampa Bay before moving on to Green Bay as the general manager. He hired Mike Holmgren as the head coach, traded for a backup quarterback named Brett Favre, revitalized that franchise that led to Super Bowl riches and restored the name of a storied organization that had fallen into disrepair.
9. Mike Westhoff:
The only man on this list who's still active in the game, you might remember Westhoff from his turn on
Hard Knocks
where he played the
Jets
awesome special teams coach. It wasn't much of a stretch, because Westhoff has been an awesome special teams coach. Aside from that, he's a bone cancer survivor (he had to have nearly a dozen surgeries to get rid of it), and he's one of the most respected working coaches today. But he won't be around much longer. After 30 years of coaching, he's said this season will be his last.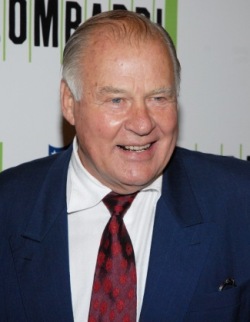 8. Ray Guy:
Last year, I made him my
No. 1 former player
who deserves be in the Hall of Fame, but since he probably won't ever get to Canton, that list and this one will have to suffice. Once
Shane Lechler
's career is over, he'll be considered the No. 1 punter of all time (maybe he'll have a chance at the HOF!), but Guy was the one who showed the NFL how important a punter could be to his team.
7. Jerry Kramer (seen at right):
He was a better football player than Jim Bouton was a pitcher, but both opened up the world of sports that fans had never seen before. Bouton's tome, "Ball Four," is a masterpiece that shocked those who had watched baseball and thought of players like Mickey Mantle as pure of heart. Kramer's 1968 book, "Instant Replay," was a diary he kept of the 1967 season in which he gave glimpses of what life was like inside the
Packers
locker room under coach Vince Lombardi while chronicling some of the most famous moments in Green Bay history.
6. James "Shack" Harris:
He was the first black player in the NFL to start at quarterback for the entire season in 1969, and in 1975, he led the Los Angeles
Rams
to an 11-2 record and an NFC West division title. He wasn't a dominant quarterback in his day, but he was a trailblazer. And after retirement from playing, he was the head of pro player personnel when the
Ravens
won the Super Bowl in 2001. He's currently a personnel executive with the
Lions
.
5. Chuck Noll:
We don't see much of Noll -- who's rumored to be in declining health -- these days, but his impact is unmistakable. He won four Super Bowls as head coach of the
Steelers
in the 1970s, and Al Davis thought so much of him that he once tried to sue him (the two were on the same staff in San Diego in the early 1960s). And he was the first coach to allow his team to take baseline concussion tests -- which, as we know today, was a pretty important development.
4. Joe Namath:
The legendary Jets quarterback has become a thorn in coach Rex Ryan's side. Namath is constantly on Twitter, exhorting or back-handing his former team, and because he's Joe Freakin' Namath, the media has to pay attention. With that -- and his on-air exchange a few years back with Suzy Kolber -- it's not difficult to forget just how good Namath was as a signal-caller. He was the first to throw for 4,000 yards (in a 14-game season no less), and he boldly guaranteed victory for the underdog Jets in Super Bowl III and then went out and delivered.
3. Joe Gibbs:
One of my colleagues recently called him the greatest coach of the last 40 years, and considering Gibbs won three Super Bowls with three different quarterbacks (Joe Theismann, Doug Williams and Mark Rypien), he's one of the legends. His return to the
Redskins
from 2004-07 didn't go so well (a combined 30-34 record), but before that, his complete career winning percentage was better than all coaches not named John Madden or Vince Lombardi.
2. John Madden:
We don't get to hear much from John Madden these days, and that's too bad. I liked him on Monday Night Football -- his football knowledge and his enthusiasm -- and though he was before my time, you have to admire his coaching record. He took over the Raiders job in 1969 at the tender age of 33, and when he retired after the 1978 season, he had a coaching record of 103-32-7. That is a winning percentage of .763, and to go with it, he won a Super Bowl and seven division titles in 10 years.
1. Bum Phillips:
The old Oilers coach -- and 3-4 defense innovator -- is still kicking around in Texas, attending
Texans
games, wearing his big cowboy hat and writing books about his life (OK, it's one book, but you should
check it out
). He's a fun guy to speak with, and he's
fully into philanthropy
. But aside from his defensive prowess, the dude is a great storyteller. Quickly, one of my favorites: when he was an assistant coach to Sid Gillman, one of the earliest believers in breaking down film, Phillips barely could keep his eyes open one night as Gillman continued studying game tape. Suddenly, out of nowhere, Gillman excitedly claimed that watching film made him feel so awesome that it was better than having sex. Responded Phillips: "Either I don't know how to watch film, Sid, or you don't know how to make love."
For more NFL news, rumors and analysis, follow

@EyeOnNFL

on Twitter and subscribe to our
RSS Feed
.