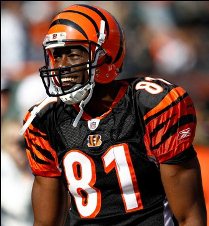 Posted by Josh Katzowitz
For a player who's getting over knee surgery and who might be (involuntarily) retired,
Terrell Owens
makes a ton of news.
One week, he's telling
Eagles
receiver
DeSean Jackson
, who wants more money from Philadelphia,
not to play
, and the next week, he's
flying to Korea
to get stem cell treatment. Or he's getting sent to the hospital or he's having money problems.
But now Drew Rosenhaus, Owen's agent, has a serious announcement to make: Owens has been cleared to play.
That's the word from Rosenhaus himself,
who tweeted
, "I just watched Terrell go through a full football workout and he looked awesome! He is 100% healthy & ready to play right now! I will be contacting the teams today to inform them that (he) is immediately available to visit and work out for them. He could play this Sunday!"
Which immediately led to this response from CBSSports.com's Mike Freeman: "Rosenhaus is playing the media. Again."
And yes, it is difficult to believe most things that emerge from Rosenhaus' mouth. You'll recall that he said the NFL
would fall apart
if he wasn't around and he proclaimed
Terrelle Pryor
a first-round pick in the supplemental draft when, as we all knew, Pryor was nowhere near that.
So, when Rosenhaus says Owens is ready to go (and willing to listen to offers), you have to check the BS meter, because it' s probably pretty high.
But …
There's a decent enough chance Owens still can play. He's not a No. 1 receiver any more -- although he was the best
Bengals
receiver last season --– but he can probably fill out a roster's depth. Hell, he probably is still good enough to start.
The problem is that Owens is such a clubhouse downer that it might not make sense for anybody to bring him in as a 10-game stand-in.
Think about it. Which teams need receiver help? The
Rams
, though
Brandon Lloyd
was a decent enough pick-up. What about the
Broncos
, who don't have a ton of help for
Tim Tebow
any more? What about the
Jaguars
, who are
so thin at receiver
they had to resort to picking up Mike Sims-Walker again?
Those teams could benefit from Owens' talent. But would those organizations want young quarterbacks like
Sam Bradford
, Tebow or
Blaine Gabbert
, respectively, having to deal with a presence like Owens? I think we all know the answer to that. And if it's true that Owens really is cleared to play -- and, as much of Twitter pointed out, who exactly is clearing him? -- Rosenhaus shouldn't expect to have Owens signed fast enough where Owens could actually play anytime soon.
For more NFL news, rumors and analysis, follow

@EyeOnNFL

on Twitter and subscribe to our
RSS Feed
.