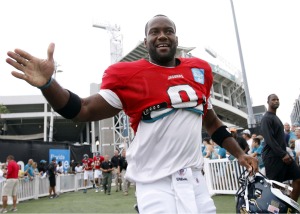 Posted by Josh Katzowitz
While we were all waiting for David Garrard to make his triumphant return to the NFL and take over some poor team's offense and make it somewhat mediocre, it turns out that there wasn't really a chance he was ever going to play this season.
That became clear Monday when Garrard said he would
undergo surgery
on the herniated disk in his back.
And while that news seemed to come out of nowhere, Garrard's agent said the
Jaguars
knew all along about his back problems, and that's why the team surprisingly released him in training camp in the first place.
That's what Al Irby told the
Florida Times Union
, e-mailing the following: "At $500,000 per game, they knew he would be down 4-6 weeks. They didn't want to pay that bill. Now you know the difference between a first-class organization like Indy, and a sorry organization like the Jags. Indy gave their QB a contract even though he couldn't play all season. ... David was told his back was fine. So he took them for their word.
"Now he has to go to surgery, and Jacksonville is saying, 'Not my problem.' What a first class organization!"
Obviously, Irby is talking about
Peyton Manning
, and though it's a topic for another post, the
Colts
obviously
should
wait for Manning, one of the best quarterbacks in history, as opposed to Garrard -- who, well, is not quite as good.
Garrard told the paper he's had back problems since college, but he also dealt with hamstring issues, which he didn't think was related to his back. Then, during training camp, he suffered a bulging disk in practice and he had to sit out the first preseason game.
"I rehabbed myself until my back was well enough that I could start playing again," Garrard said. "When I was telling everybody my back was fine, my back did feel fine. But my leg never felt fine. I never really considered that my leg was connected to the disk in my back. I just thought I had tight hips and I needed to stretch and keep that under control. Well, it was definitely all because of my disk in my back."
The pain got so bad a couple weeks ago that he went to the emergency room. While Garrard, in his interview, didn't rip his old team, he also said he still plans to return to football. He'll be out four to six weeks while recovering from surgery.
"I am definitely not retiring," he told the paper. "I definitely want to be on a squad."
But the way his agent torched the Jaguars, there's a pretty good chance it won't be in Jacksonville.
For more NFL news, rumors and analysis, follow

@EyeOnNFL

on Twitter and subscribe to our
RSS Feed
.