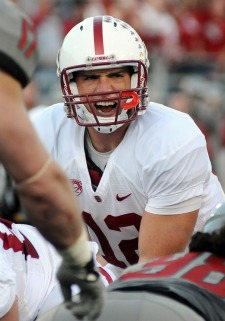 Posted by Josh Katzowitz
If you want to upset
Dolphins
linebacker
Karlos Dansby
, if you want to get his heart pumping rapidly, bring up the Suck for Luck campaign and watch him go.
In case you're stuck under the bad vibes created by some of the worst teams in the NFL -- I'm looking at you, Dolphins,
Rams
,
Colts
and
Vikings
-- Suck for Luck is the idea that a team will tank the rest of the season in order to gain the No. 1 pick in next year's draft, which that team then could use to select Stanford quarterback Andrew Luck.
But to suggest that a professional athlete would tank games for the sake of something that would happen next year, when that athlete might or might not still be on that team, is insulting to Dansby.
"It's not right, bro. It's not right," Dansby told the
South Florida Sun Sentinel
. "We put too much into this, man, to have the fans say that -- period, point blank -- or even promote that campaign. It's kind of sad."
Go on …
"It pisses me off," he said. "I don't understand nothing about that. I put too many hours into this, man, put too many years into this, sacrificed too much to ask somebody to put that stipulation on me and my teammates. Because I know how much we put into this."
Dansby then was asked if he'd consider sitting out the final games of the season in order to insure losses for his team. In his answer, he said the word "no" eight times and the phrase "not going to happen" twice in the span of his 31-word response.
He also said this: "Man, we got 11 games. What are you talking about? We can't look at next season. We've got 11 games. We can win 'em out, and then what? Then you'd be biting your tongue. Those guys that are saying that are fair-weather fans. They're not real Dolphins fans."
Or maybe they're the biggest Dolphins fans of all. With the team rowing in circles, with coach Tony Sparano almost assuredly gone, with quarterback
Chad Henne
's fate still up in the air, you could understand why the fans would be dreaming about Luck -- a guy who maybe, possibly could turn around an organization.
Just don't mention it to Dansby.
For more NFL news, rumors and analysis, follow

@EyeOnNFL

on Twitter and subscribe to our
RSS Feed
.