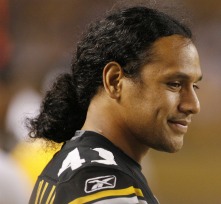 Posted by Josh Katzowitz
Sometimes, the NFL makes so little sense when it comes to its discipline, it's enough to make you scream. Or give you a mind-bending headache.
After declining to discipline
Lions
coach Jim Schwartz and
49ers
coach Jim Harbaugh for Handshake-Gate (though I much prefer Schwarbaugh-Gate) -- I repeat, for their near-brawl, they were fined exactly zero dollars and zero cents -- the league made a disappointing, yet predictable decision to fine
Steelers
safety
Troy Polamalu
for using a cell phone on the sideline of last Sunday's game.
The reason Polamalu used the cell phone in the first place was because he had suffered a concussion and
was calling his wife to tell her he was OK
. But the NFL deemed it necessary to fine him $10,000 for the action, making it the world's most expensive phone call* of the last week.
*I assume this is true, anyway.


Earlier in the week, Steelers coach Mike Tomlin tried to plead on Polamalu's behalf, saying, "He's had a history of concussion-like symptoms and so forth in the past. She was concerned. In this era of player safety, you would think that common sense would prevail in regards to some of those things. It wasn't a personal call. He wasn't checking on his bank account. He was talking to his wife to let her know that he was fine, and that was it."
Instead, the NFL decided to discipline him twice as heavily as
Clay Matthews
for
his shoe selection
and 10,000 times more heavy than Schwartz and Harbaugh**.
**I realize if Schwartz and Harbaugh had been fined $1, the above would have been an accurate statement. As it is, I know you can't divide anything by zero. But just go with me here.
It's a shame and it's unfortunate and … well, I'm fresh out of adjectives. It just kind of sucks.
For more NFL news, rumors and analysis, follow

@EyeOnNFL

on Twitter and subscribe to our
RSS Feed
.