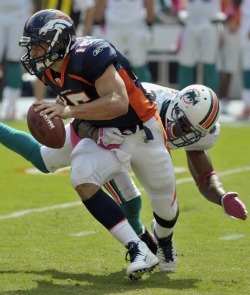 Posted by Josh Katzowitz
The
Broncos
made a ridiculous comeback on the
Dolphins
, and
Tim Tebow
was front and center, throwing touchdown passes and running in a two-point conversion. After the Broncos 18-15 overtime win against the Dolphins, he kneeled on the sideline. He could have been saying thanks for the final result. Or he could have been praying for the future.
Because while the first was impressive, the second is cloudy.
For the first 55 minutes of this game, Tebow was terrible. Then, for five minutes at the end of regulation, he was the All-American from the University of Florida, leading his team to victory.
Tebow was terrible before he was awesome on Sunday. The Miami crowd went from jeering the Florida native to cheering him and chanting his name.
But don't you believe the hype. Tebow was horrendous for much of the day, and Denver's win had more to do with how bad the Dolphins are* than the future of Tebow's NFL career.
*Urban Meyer was in the house and spotted talking to Dolphins owner Stephen Ross. Do you think Ross offered him the job right there and then?
His first pass of the day should have been intercepted by
Karlos Dansby
. There were times when it appeared that he had no idea what he was doing. And it was clear John Fox didn't trust him enough to run a fourth and 1 play (instead,
Matt Prater
missed his second field goal of the day).
Broncos fans applauded when the Broncos first announced that
Kyle Orton
would be replaced by Tebow as the starting quarterback, and today, their judgment has been vindicated. But it's only temporary. At least Orton is a quarterback that looks like a professional athlete most of the time he plays. Tebow looks like a pro athlete as well. But not as a quarterback. Maybe as a tight end. Maybe as an H-back. Hell, maybe as a linebacker.
But not as a quarterback.
He overthrew a wide-open
Eric Decker
on a long pass that would have yielded a touchdown. He threw too high. For most of the day, he made Dolphins quarterback
Matt Moore
look like the best signal-caller on the field. By far.
Midway through the fourth quarter, Tebow had been sacked five times while completing four passes (he finished 13 of 27 for 161 yards and two touchdowns while rushing eight times for 65 yards). He led a nice drive late in the fourth quarter to get his team on the scoreboard, and he kept it up after Denver recovered an onside kick. But he was mostly making do with screen passes, short-yardage throws and scrambles.
The stats don't look as bad as Tebow performed Sunday. But it was an anomaly, a fluke.
What does it mean for this Broncos season that is still a lost cause? Fox can't go back to Orton now, but would he if Tebow continues to struggle? What about
Brady Quinn
-- who, like Orton, is in the final year of his contract?
Or maybe, just maybe, this is some elaborate conspiracy plan to secure the services of Andrew Luck. Sure, that's a ridiculous notion and it backfired Sunday. But is it that much more ridiculous than implying that Tebow is a legitimate NFL starting quarterback? Even with today's result, I'd say no.
After all, you shouldn't see the mirage for the trees.
For more NFL news, rumors and analysis, follow

@EyeOnNFL

on Twitter and subscribe to our
RSS Feed
.