Posted by Josh Katzowitz

When your wife is pregnant, the "letting friends and family know" phase is an interesting line to walk. Most likely, you tell your parents and siblings first -- maybe eight weeks in. Then, maybe a month later, you slowly begin to tell close friends. Word eventually begins to leak out. Then, you make the Facebook announcement and EVERYBODY knows the news.

When my wife was pregnant, though, under no circumstances was I allowed to tell an entire auditorium full of high school students that she was expecting. Luckily, Candice Crawford, Romo's pregnant wife, has no such rules for her husband (though, watch her reaction in the video below. It's iffy, at best). So, on Wednesday, when Romo spoke to students at Cedar Hill High School, he let slip that he was an expectant father.


Tony and Candice Romo are Pregnant: MyFoxDFW.com


Now, the news is out there, and yes, Tony Romo will be a father. With that, here is some unsolicited advice for the man whose life is about to change big-time. Because if Romo is about to learn one truth about being a dad, it's that people don't mind letting loose suggestions about how to parent your kid, whether that advice is wanted or not.

10. Breathe a sigh of relief: First off, Mazel Tov and congratulations and all that. Second of all, give thanks to the heavens that your wife is not having multiples. I'm sure Carson Palmer and Peyton Manning would be happy to tell you that raising twins is tough, especially in the first six months. After that, it gets easier, and while twins are a wonderful gift, I imagine Palmer and Manning would recommend having a singleton instead.

9. Take the baby class: As one of his buddies in the above video noted, Romo has probably never changed a diaper. Though he's this big-time star quarterback and, on some weeks, he's the toast of Dallas, his wife will ask him -- nay, force him -- to change diapers at some point. There's just no way around it. And while it can be inconvenient to go to the weekly baby classes (or birthing classes or whatever), there's no doubt he'll learn something. Babies aren't necessarily as complicated as the weekly Cowboys game plan, but that doesn't mean you should cram it all in the last minute. Simply put, you have to prepare for game day.

8. Move to the suburbs: This might be a disappointing piece of news for Romo, but when you have kids, you have to move away from the hip area of town where you live and move out to the suburbs so your kids can go to the "good public schools." Plus, once you're a parent, you find out you're more likely to be dining at the local Red Robin with your children rather than at the ultra-cool restaurant downtown. We know Romo isn't adverse to going out on the town, but if you've got kids, you learn to sacrifice. Um, actually, never mind on this advice. Romo makes enough money to send his kid to private school. So, scratch this one. He can live wherever he wants.

7. Sleep-train the baby: The first few months of the child's life, it won't really matter what you do. Your baby will be up multiple times a night wanting food, and it'll cry to make its wishes known. But at some point, you need to get your baby in the habit of falling asleep and staying asleep. The wife and I used this book, and it worked wonderfully well. Use whatever method you like to sleep-train, bu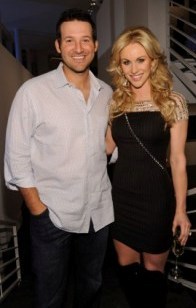 t know that it's imperative to do so, because if the baby is not asleep, the parents aren't asleep. And I imagine it's tough to perform well on Sundays if you're working on only a few hours of shut-eye.

6. Discard the hat: You know that hat that Romo loves to wear (if not, check out the photo right here)? It's probably time for that bad boy to go. And if he can't bear to part with it, at least, cut down on the usage (last yaer, it seemed we got to see it every week at the postgame pressers). After all, there will be plenty of silly, tiny hats on the tops of the heads of Romo namesakes in the next few years. Tony should try to cut down on his own contributions.

5. Get the damn vaccinations: This might come off as high and mighty and pretentious, but I don't care. Listen to your pediatricians and their scientifically-backed statistics about when to vaccinate your kids and why they're so important. Don't listen to Jenny McCarthy and her bone-headed analysis linking vaccinations to potential autism cases. The research for that link has been completely discredited. Get the kid vaccinated and make a contribution to society.

4. Cut food into small pieces: When the baby is old enough to sit in a high-chair and learns to feed him/herself, Romo has to remember to cut the food into tiny pieces for the baby to swallow. After all, there's only room enough in the family for one choker (I kid, I kid).

3. Have the "drugs are bad, mmkay" talk as soon as possible: Though Romo benefited from the Cowboys decision before the 2004 season to release quarterback Quincy Carter because of substance abuse issues, Romo should make sure his offspring know the dangers of drug abuse as soon as possible. You certainly don't want the drugs to derail your life, and with a rich daddy who's constantly under criticism and fan supervision, the availability and temptation to get involved could be greater. Otherwise, the child might have to appear on "Celebrity Rehab," a fate no man or woman deserves.

2. Don't hire the super-hot nanny: It didn't work for Turk on "Scrubs" and it didn't work for Joey on "Friends." It's not going to work for Romo either (he should also make sure the nanny can't fly using an umbrella).

1. If in the delivery room, just watch: We all know Romo has had a history of, um, fumbling the snap. Maybe he should leave the actual delivery of his kid to someone else (like, I don't know, a doctro) and just take pictures of the momentous occasion and/or try not to pass out during the childbirth.
For more NFL news, rumors and analysis, follow @EyeOnNFL> on Twitter and subscribe to our RSS Feed.