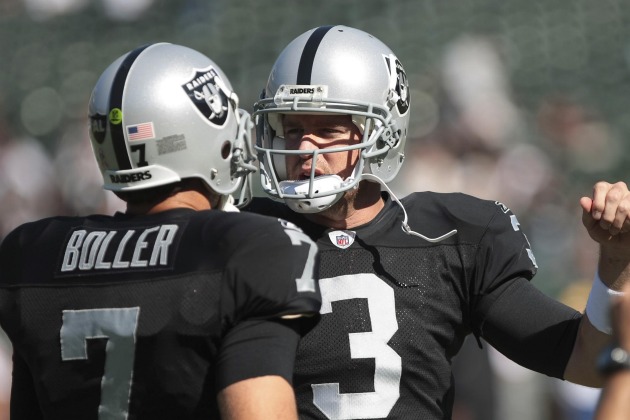 Posted by Josh Katzowitz
Fans in Cincinnati have been upset with
Carson Palmer
ever since he walked away from the
Bengals
and (kinda, sorta) retired. They think he abandoned the team -- which he did -- and they think he was selfish. But he had his reasons, considering he knows exactly how the Bengals organization is run, and I think he had good reasons for not returning.
But … he was still selfish for leaving, and even he's willing to admit it.
"Well it's been a long eight years," Palmer told KNBR in San Francisco (via
sportsradiointerviews.com
). "I've been through a lot, seen a lot within that organization, and just decided. I definitely realized it was a selfish decision that I was making. I talked about it a lot with my family and decided that I'd like to continue to play but it was time to move on. And it was time for them to move on.
"I'm just excited and happy and blessed to be in the situation I'm in now playing for Coach Jackson and with this organization. I'm excited where this one is headed, and it's also good where the Bengals organization is headed -- they're headed in a great direction. They've got a good young nucleus of players, they're playing really well, and I think it worked out well for both organizations."
So, did he think he would actually beat Bengals owner Mike Brown in a game of chicken?
"I actually thought I might not get a chance to play this year," Palmer said. "I didn't think (Brown) was going to do it and was hoping for next year. But if that was what it was going to take, that's what it was going to take. But fortunately I got the chance to play this year."
And sure, the
Raiders
were terrible last week, watching as
Kyle Boller
and then Palmer threw a combined six interceptions, but Palmer is pleased to be reunited with Hue Jackson. Meanwhile, the Bengals have moved on with
Andy Dalton
. But still, that doesn't stop Marvin Lewis from taking shots at Palmer's willingness to remain loyal to the team that committed tens of millions of dollars to him.
"At what point did Carson quit?" Lewis asked
Yahoo Sports
. "At some point last year he decided he didn't want to be here. This didn't happen at the end of the season. There was a point earlier on when he said, 'This isn't the place for me.'"
Or as one unnamed Bengals official told Les Carpenter: "We got rid of all our [expletive]."
Which strikes me as blatantly unfair. But Palmer seems happy in his location. The Bengals seem happy with their new quarterback. And everybody can go along on their merry way.
For more NFL news, rumors and analysis, follow

@EyeOnNFL

on Twitter and subscribe to our
RSS Feed
.