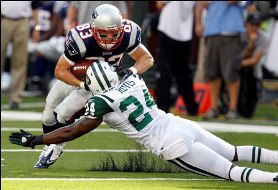 Posted by Josh Katzowitz
Now that
Steelers
cornerback
Ike Taylor
has corralled
Wes Welker
into his worst game of the season -- which is why I voted Taylor as my defensive player of the week in our
weekly awards post
-- it seems like EVERYBODY can shut down Welker, who leads the NFL with 57 catches and is second with 824 yards.
Isn't that right,
Antrel Rolle
?
"I don't know," Rolle said, via the
New York Daily News
, when asked what makes Welker so difficult to cover. "You've got to ask those guys he's giving trouble to. I don't plan on having to answer to those questions."
Before we continue, we should note that the
Giants
pass defense is ranked 13th in the NFL, so it's not like New York has played unreal in this phase of the game. In fact, the Giants are a little better than mediocre at stopping the pass at this point. Still, that doesn't stop Rolle from being, in his own words, a "cocky mother------." Which is why when he was asked if he could cover Welker, he said, "I can handle anything."
"You know, he's human at the end of the day," Rolle said. "He is a great receiver and you don't take anything from him, but he is human at the end of the day. And like I said, the game has to be played on Sunday. I'll answer more questions after the game."
But what did the Steelers do to Welker that you can use for this Sunday? Can Rolle take lessons from that performance and apply it to himself?
"They didn't do anything spectacular, they weren't double-teaming (him), they weren't doing anything," Rolle said. "They just lined up and kicked their ass. Bottom line. That's what they did. They stayed on them the whole game -- not just Wes Welker, everyone. They played great ball."
In related Welker news, he missed practice Wednesday with a neck injury. And if he doesn't play at all this Sunday, Rolle won't have to worry about eating his words. Because covering Welker is awfully easy when he's not actually playing in the game.
For more NFL news, rumors and analysis, follow

@EyeOnNFL

on Twitter and subscribe to our
RSS Feed
.