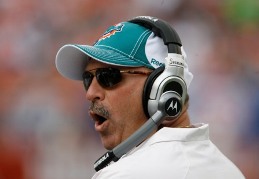 Posted by Josh Katzowitz
Tony Sparano still has a job. And you have to think part of the reason the
Dolphins
still employ him for now is because the team hasn't quit on him. As we've seen in the past few weeks, when it built leads on the
Broncos
and the
Giants
only to watch those advantages crumble, it's not a matter of desire for Miami. It's a matter of talent, and Sparano isn't the only one to blame for it.
So, Sparano does whatever he can to change the routine to try to find some way, somehow, to find the formula for victory.
"I changed everything really," Sparano said, via the
Palm Beach Post
. "I changed the amount of reps we took. I changed the length of the periods. I changed what we were practicing, (and) when. … Shaved time, made practice shorter, a little more efficient. Tried to keep the players fresher that way. Two minute (drill) we did on Thursday. Up the weightlifting all week so that we had more time at the end of the week to recover as opposed to lifting weights deep into the week. Kind of made as many changes as I could.
"Hopefully we find a winning formula this week and we don't have to change, because we're creatures of habit. I think once we get one of these under our belt -- which we hope is this week -- then we'll stick to that for a little while."
But one of the strongest reasons to support Sparano at this point is that the team still seems to be held together. Considering there was some early-season tension with the quarterback situation (you might recall
fans chanting
for
Kyle Orton
at the expense of
Chad Henne
-- boy, were those fans crazy, eh?), Sparano's ability to not watch over a team-wise breakdown is impressive. Even the whole
"this team stinks, you stink, I stink"
issue of last week was more funny than disruptive.
In fact, as one player suggests, the team is still (gasp!) having a good time together.
"Practice is still fun," said
Reggie Bush
via the
South Florida Sun Sentinel
. "Guys are having a good time out there, still working and we're still hacking away at it."
Sparano knows he's fortunate that his locker room seems to have remained supportive of him. Even
Brandon Marshall
has been relatively harmless, it seems. The energy at practice remains strong; Sparano simply says the team's efficiency needs to improve.
Or maybe Sparano can find some kind of good luck piece, a la Todd Haley's scary
winning-streak beard
.
"I've had this thing (facial hair) since the start of the season and preseason and that didn't work out so good, so I shaved it just before one of the games a couple weeks ago," he said. "And that didn't work out so good, so I grew it back. And maybe this thing is going to turn into those ZZ Top things. We'll work it that way."
For more NFL news, rumors and analysis, follow

@EyeOnNFL

on Twitter and subscribe to our
RSS Feed
.