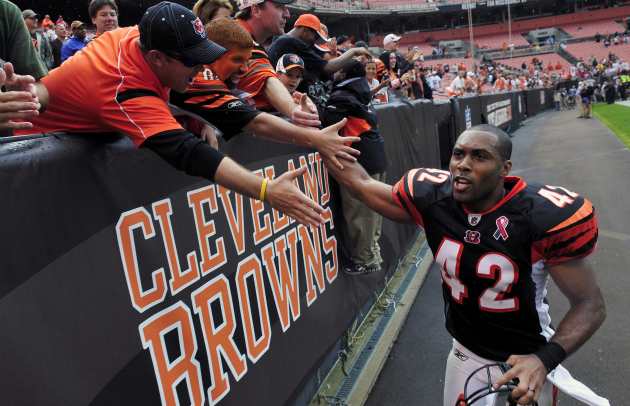 Posted by Josh Katzowitz
Chris Crocker
has played on good
Bengals
teams and bad Bengals teams. Mostly bad. But now that Cincinnati is 5-2, Crocker is receiving a bit more recognition for being a key component on a Bengals squad that has one of the league's best defenses. After starting only six games during his first years in Cleveland, he's started 83 of the last 89 contests he's played, and he's had himself a nice career. Seven games into this season, he's already surpassed his career high with 2.5 sacks on the year.
He's also one of the better quotes in the Bengals locker room, always willing to speak about whatever's on his mind with nary a nod to the idea of political correctness. That's not to say he's in the same league as former teammates
Chad Ochocinco
or
Terrell Owens
. Those guys talked because they liked to hear themselves speak. When Crocker speaks, he usually has something interesting to say.
Knowing that, we caught up with Crocker earlier this week where we talked about life in the Bengals organization this year, how the team moved past the
Carson Palmer
controversy and why Owens can't get a job.
Previous Five Questions (or more):

Sept. 16:
Actor/former
Patriots
DB Brian White
Sept. 30:
Bills
RB
Fred Jackson
Oct. 7:
Sweetness
author Jeff Pearlman
Oct. 21:
49ers
LB
Aldon Smith
1. CBSSports.com:
I was around that locker room for six years, and I know what that organization is like and what the mood in the locker room has been when the team's been bad. What's different this year?
Chris Crocker:
I can talk specifically on defense where the majority of the guys are the same guys who have been here. Offensively, we've changed a lot of guys. We already had really good guys the locker room. It's just been what the perception has been. We don't have a Chad (Ochocinco) anymore that's always in the media. All of our guys are low-key. We don't have the guys who are in the limelight. The perception has changed. A lot of the guys we had before were getting into trouble with DUIs and suspensions. We've always had a good group of guys. We just don't have any more Hollywood.
2. CBS:
I don't think I was alone in the national media in picking the Bengals to struggle, to go maybe 4-12 or 3-13. That obviously wasn't right, but if you looked at what was happening, Carson Palmer was maybe going to go, the top two receivers from last year would leave, and we didn't know why Marvin Lewis came back. Why are you guys winning?
Crocker:
Offensively, we haven't been very good since I've been here. I'm not saying that to kick my teammates in the butt. The truth of the matter is we haven't been great. The defense, we felt like we were the strength of the team. No matter what, we felt like we had to carry our team. It just so happened that we stumbled on a quarterback that could manage the game, we're very talented at the wide receiver spot, and Cedric (Benson) re-signed. Everything really jelled on the offensive side of the ball. We knew we were going to play stingy defense. But the (offensive) formula has worked for us. There were a lot of questions -- who's going to be the quarterback, the running back, the receivers, and on defense we had questions too. But we felt like the nucleus was the same. Outside of these walls, nobody saw us as good. But every year, nobody sees us as good, so why should it be any different?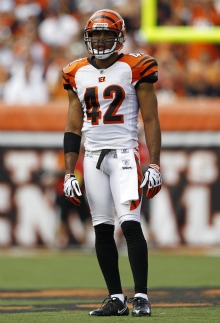 3. CBS:
But losing
Johnathan Joseph
to the
Texans
was a major thing, right? I mean, Joseph and
Leon Hall
were considered to be one of the better young cornerback tandems in the league.
Crocker:
Going into the season, it was a big blow. Me and Leon and John have all been together. We had formed something that was really special. He leaves to go elsewhere, which is fine. He was entitled to do that. But what we were going to do?
Nate Clements
was a free agent, and he fit right in. He's been a great player in this league for a while. For him coming in, it was just a matter of time. How long would it take him to learn the system and get on the same page? It's been really good. You couldn't have put a better guy in there.
CBS:
Why did it fit Clements so well?
Crocker:
First of all, experience supersedes everything. He's a very smart guy. He really wanted to come in here and really get on the same page with everybody. He wasn't coming here with the attitude that he's been there and done that. He came in with the attitude that he could learn. It's hard when you're an old guy, you get stuck in your ways. But he was completely opposite of that. He wanted to be part of something special. But with us, it's week to week. If we don't play well the next week, then we're a piece of crap. Especially in the media. We want to go out there and play well.
CBS:
Yeah, but us in the media can also say, "Well, the Bengals really haven't faced any great quarterbacks. They haven't really played anybody yet. Their schedule is weak. They haven't played Baltimore or Pittsburgh yet."
Crocker:
When people say that, you know that you don't ever apologize for winning. Those other guys in the division, they're playing the same teams we are. You don't apologize for winning in this league. We'll see those guys down the road and see where we stand then.
4. CBS:
Regarding Carson Palmer, what was the locker room attitude about him? He had been such a good member of the team, but then he bailed. Did Carson abandon you guys, or did he have a good point?
Crocker:
In Cincinnati in general, he had been the quarterback for so long, maybe the fans and the organization were scared of change. Sometimes change is good. In this case, it works out for us. If he didn't want to be here, that's fine. It's all good and dandy. We knew our offense wasn't the 1999 St. Louis
Rams
. Let's be real. We weren't playing John Elway. I like Carson, but let's look at what we were.
5. CBS:
What about Terrell Owens? You played with him last year, saw him in practice. Does he still have what it takes? Why doesn't he have a job?
Crocker:
I'll say this. When we talk about how perception is reality, the perception around the league is that he's a bad locker room guy and a bad teammate. Organizations don't want to bring that dynamic in the locker room, especially with him 37 or 38 years old. I just don't think people are willing to do it. I'm not saying he's a bad teammate, but he was called one when he was in San Fran, in Philly, in Dallas. It's like a circus. Teams just don't want to go that route. You bring him in, and you bring in all the stuff that goes with it. He seems healthy, he looks healthy. I'm not a GM, but it's something you worry about.
CBS:
Was it a circus last year with Owens and Ochocinco?
Crocker:
I'll go off what he said. He talks so bad about organizations that nobody wants to deal with that. You bring him in here, and it's all good. But when it goes bad, he talks bad about the organization. My only rule is this: you might have gripes and you might not be happy, but you don't bite the hand that feeds you. I think that's how organizations feel about him.
For more NFL news, rumors and analysis, follow

@EyeOnNFL

on Twitter and subscribe to our
RSS Feed
.