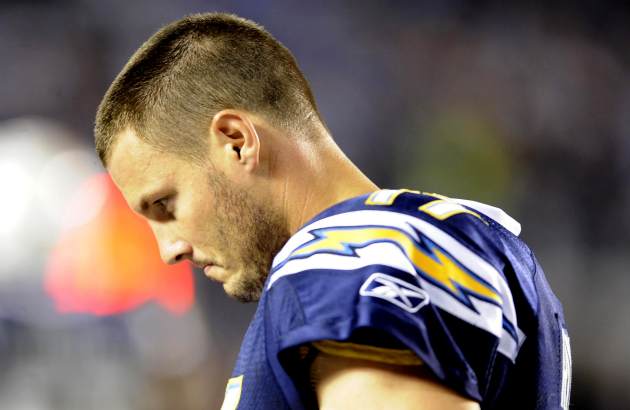 Posted by Josh Katzowitz
Where there's a star football player*, there's always a star football ready to fall. Sometimes, they get old overnight. Sometimes, they get satiated by a rich, new contract and lose the desire to stay hungry and work out as hard. Sometimes, their one shining season was a mirage and their talent wasn't all that great in the first place.
*Or a football coach, executive, etc.
Earlier this season, we discussed the league's
most underrated players
, the players you really should know about, and in this edition of Top Ten with a Twist, we examine the players who, for whichever reason, have fallen off the cliff. Not necessarily overrated players, but players who once were great -- or showed us the potential to be great -- but have fallen on hard times. Some of these selections still play at a very high level. That's not the issue. The question is: are they as great as they were?
The trick for them is to rediscover what made them great in the first place, to rediscover their mojo. If they can.
10. Bernard Pollard:
It was at the beginning of the 2010 season when I ranked Pollard No. 4 on my
top-five safeties list
, which led CBSSports.com film-watching guru Andy Benoit to write, "I like that you went with Pollard -- that shows you're paying attention. Few people even know about the fifth-year pro." And just two years later, after Pollard was jettisoned out of Houston, few people remember how effective he used to be. Now, he's in Baltimore and he's actually a starter, and really the only time he's making news is when he's being fined for illegal hits.
9. Logan Mankins:
Once one of the best offensive guards around -- and still a top-notch player -- the contract dispute of the last two seasons seems to have taken something out of him (in August, he signed a six-year, $51 million deal). Though he emerged from last year's holdout, in which he missed seven games, as a Pro Bowl player, he's struggling a bit this season. He's been whistled for more penalties, and he's allowed more sacks than normal. Listen, he's still one of the best guards out there, but New York's
Justin Tuck
and Pittsburgh's
LaMarr Woodley
found success against him this year. That rarely happened in the past.
8. Andy Reid:
Is it fair that Reid, after back-to-back 10-win seasons and a plethora of success during his 12-year
Eagles
career, is on the hot seat for the mess Philadelphia has become this year? Maybe not. But is Reid partially -- if not, mostly -- to blame for how the Eagles season has progressed? Yes. Bringing in high-priced free agents like
Nnamdi Asomugha
seemed like a great idea at the time, but some of those moves have fizzled. Moving former offensive line coach Juan Castillo to defensive coordinator has not worked out well. And at this point, it seems like a lock that the 3-6 Eagles will finish outside the playoffs. Should he lose his job? Probably not. Will he? Maybe.
7. Chris Johnson:
True, he's coming off his best game of the season (27 carries, 130 yards, one touchdown), but Johnson has been a major disaster this year. Which has to give heartburn to the
Titans
front office, which signed Johnson to a six-year, $55.3 million contract before the season. And with that, Johnson stopped producing. He stopped hitting his holes with big-time bursts, he stopped breaking tackles and he looked lackluster. It's hard to imagine that a big, fat contract would have caused such an appetite loss for Johnson, but all we've seen out of him this year are two pretty good games and a whole lot of blame deflection.
6. Bill Polian:
Has an executive's talent-spotting reputation ever fallen as far and as fast as Polian this year? With the loss of
Peyton Manning
imploding the
Colts
, eyes have shifted to Polian as perhaps a reason why Indianapolis has struggled so badly this year. No quality backup quarterback and a bushel of questionable draft picks in the past few years have us wondering if Polian's job is in danger (owner Jim Irsay has said it's not). But man, did the talent of Manning shield our knowledge of Polian's ability this entire time?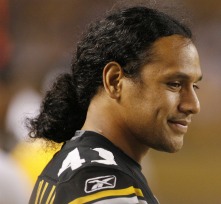 5. Troy Polamalu:
Some of my colleagues (
cough, cough
) love to rail on Polamalu as the most overrated player in the league. I don't think he's that at all. Polamalu still plays at a high level, and he's still a guy you have to gameplan against. But to say he's the same player he was five years ago is obviously untrue. He can still lay a mean hit on a receiver, but he struggles in coverage (as shown by his inadequate defense against an
A.J. Green
touchdown bomb last week), and he doesn't have the speed of his youth. He doesn't even have the speed of two years ago. Yes, he's been hampered by injuries (he's missed 13 combined games in the past two seasons), but he's not the all-world safety anymore (though he's smart and experienced, which certainly helps). That was proven correct in Super XLV when the
Packers
made him irrelevant all game.
4. Chad Ochocinco:
We've over-analyzed Ochocinco to death on this blog, but man, it's still kind of crazy that he has just 11 catches for 201 yards and zero touchdowns on the season. The guy used to be ultra-confident. Now, he's slowly disappearing like Marty McFly's family photo.
3. DeSean Jackson:
You have to think that, with the statements Jackson has made about how protecting his health was his No. 1 priority this season and with the fact he overslept and missed a team meeting last Saturday and got himself deactivated on Sunday, Jackson is really, really interested in his new contract. Naturally, he wants to get paid, but I don't think being tied for 71st in the league with 29 catches is going to attract a ton of positive attention.
2. Sam Bradford:
This is a strange case. Bradford seemed on the verge of a breaking out in his rookie season last year, but he's been a forgotten man this year. That's probably because the
Rams
are a forgotten team and because he's missed a few games because of an ankle injury. But his completion percentage is down this year (55.8 percent), his touchdown-to-interception ratio is a bit worse, and he's lost twice as many fumbles (his offensive line and receivers are not helping matters at all). And it's not just that Bradford has played worse; it's that nobody nationally seems to be talking about him at all, good or bad. That's just kind of strange for last year's No. 1 overall pick.
1. Philip Rivers:
He's never had great form, but something about the
Chargers
quarterback seems off this season. His strange mechanics look even stranger, and Rivers leads the league in interceptions while his 4-5 San Diego unit is sinking in the AFC West. I've made the joke that, now that Rivers has six children, it's no wonder he's had a tougher time. But in San Diego, this can't be a laughing matter. Not when Norv Turner's job is at risk and with the Chargers losing hope fast. I keep thinking Rivers can turn it around, but at this point, it's tough to say if he will.
For more NFL news, rumors and analysis, follow

@EyeOnNFL

on Twitter and subscribe to our
RSS Feed
.