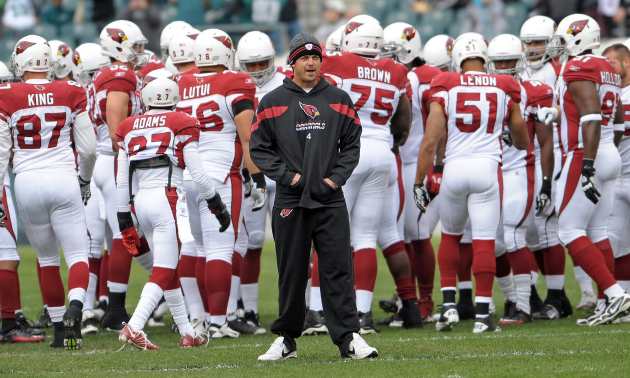 Posted by Josh Katzowitz
Even though
Kevin Kolb
wasn't on the field helping his team to a big win against his former
Eagles
squad last week -- apparently,
John Skelton
was
exactly
what Arizona needed -- he still tried to help out as best he could by calling out the plays Philadelphia ran
on its final drive
.
"During the two-minute drill, you almost feel guilty," Kolb said. "Mike (Vick) is sitting there giving the signals, and I'm standing there on our sidelines, screaming at our corners, 'Hey it's a go ball, hey he's running a screen, hey he's running a slant.'"
In the end, Kolb said his screaming probably didn't have much of an impact on Arizona's defense, and a day later, Eagles offensive coordinator Mary Mornhinweg said Kolb was absolutely correct.
"That's a story you can always anticipate, an ex-player that's on another ballclub and who's injured and wants so badly to be a part of a win," Mornhinweg said, via
Philly.com
. "In the two-minute (offense) we only called two plays on the line. Completed the third down and then dropped a big one."
Mornhinweg also said he went back to review the film to see if Kolb had any discernible effect on the
Cardinals
defense, and he found nothing (though as the website points out, how would he know, since Arizona DID stop the Eagles on that drive?).
"It's clear on film," Mornhinweg said. "Also I think that stuff's sort of overrated. Just put yourself in a corner's position, and some guy on the sideline's yelling at you something. You've got to trust yourself."
But if you also know you've got a former quarterback of the opponent you're playing yelling about the plays that are being called, it also isn't a bad idea to listen up either. You might just help your team stuff the offense and win the game. Which Mornhinweg said didn't happen. But it could have.
For more NFL news, rumors and analysis, follow

@EyeOnNFL

on Twitter and subscribe to our
RSS Feed
.