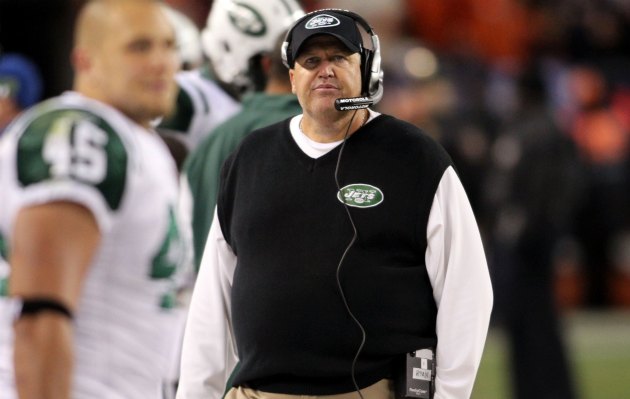 Posted by Josh Katzowitz
While Tebow-mania descended upon Denver following the
Broncos
17-13 win against the
Jets
on Thursday, the atmosphere inside New York's locker room was a smidge different. Coach Rex Ryan, during his postgame presser, looked devastated and emotional, and there was an element of disbelief sprinkled among the players as they dressed for their trip home.
"I'm just so shocked right now," Revis said, via
Newsday
. "The only thing I can say is he ran the offense the best way he could and they ended up driving on us on that touchdown drive. He did it.
Tim Tebow
did it. He shocked me. He probably shocked a lot of people. But he did it."
Considering Revis said earlier in the week that Tebow running the option
couldn't work for a whole season
and that "the biggest thing for the secondary is for us not to fall asleep," Revis must have
really
been surprised by Tebow's ability to lead his team on a game-winning 95-yard drive.
While Rex Ryan
literally wrote the book
on how to stop the read-option, the Jets made a critical mistake on the Broncos final offensive play of the game. With Denver facing a third and four from the Broncos 20-yard line, the Jets sent a full-out blitz up the middle of the line -- eight defenders rushed the quarterback -- but Tebow immediately recognized it, scrambled left, beat safety
Eric Smith
to the outside and raced to the end zone.
"Obviously, a critical error," Ryan said. "But Tebow made the play. We thought that play was coming, but we never got it defended."
Afterward, Ryan was asked about the thought process behind the decision to blitz, and he said (again, via
Newsday
), "I'd rather not."
That's because the play-call was a bit strange if the Jets were actually expecting the run. Which they were. If they thought Tebow was going to pass, an all-out blitz would have been a fine call. But that's not what New York thought was going to happen. Which makes the play-call suspect.
"You don't bring all-out pressure when you expect the run," Smith said. "We just run what's called. It's really frustrating. It's a letdown. It's a bad feeling."
"It's one of those things where you just have to catch him, because nobody else is around. It's frustrating when you play like that and you get to that last drive and they go 95 yards and you can't stop them."
Aha, that's the power of Tebow Time. And for now, nobody is quite sure how to stop it. Not even the guy who wrote the book.
For more NFL news, rumors and analysis, follow

@EyeOnNFL

on Twitter and subscribe to our
RSS Feed
.