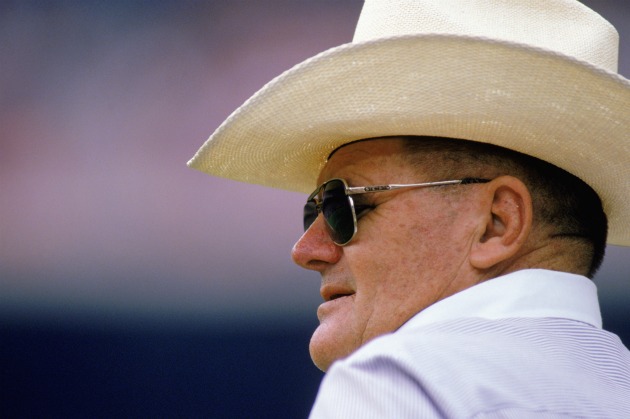 Posted by Josh Katzowitz
Every Sunday, Bum Phillips watches with fatherly pride as his son,
Texans
defensive coordinator Wade Phillips, helps his team to another standout performance. After Houston finished 30th in total defense last year, Wade Phillips, after switching the scheme from a 4-3 to a 3-4, has the Texans as the No. 1 defense in the NFL in his first year in the organization.
You might be surprised, considering Wade Phillips' up and down head coaching career, but there's no doubt he's a strong defensive coordinator. He gets much of that from his father, Bum Phillips, who was the first coach to bring the 3-4 to the NFL in the mid-1970s and eventually became the popular Houston Oilers and New Orleans
Saints
coach. Bum Phillips finished his career with an 82-77 mark, and he was rarely seen without his trusty cowboy hat. He was a character and a good coach, and apparently, Wade got many of those genes.
We caught up with 88-year-old Bum Phillips earlier this week, and we talked about the job Wade has done this year, how the Texans will survive without quarterback
Matt Schaub
, the 3-4 defense and if the
Broncos
can win with
Tim Tebow
.
Previous Five Questions (or more):

Sept. 16:
Actor/former
Patriots
DB Brian White
Sept. 30:
Bills
RB
Fred Jackson
Oct. 7:
Sweetness
author Jeff Pearlman
Oct. 21:
49ers
LB
Aldon Smith

Nov. 4:
Chris Crocker
1. CBSSports.com:
Considering how bad the Texans defense was last year, how did Wade come in this year and turn it all around? Even with the lockout and not having any time to install it in the offseason, how did it happen?
Bum Phillips:
Good players. And a good system. And a bunch of good people around them on offense. They keep the ball on offense, which helps them a lot. If they went three-and-out all the time and didn't keep the ball real long, it'd be hard to keep the defense from not getting tired. He's had 35 years in the league, and he's been defensive coordinator for a bunch of teams. They've had good teams with him coaching. It'd have to be the system.
CBS:
But I think what surprised me is that the turnaround happened so quickly, even with the lockout and not having an offseason.
Phillips:
The 3-4 evidently fits their personnel better. They've got better linebackers than they do defensive linemen. They don't need but three defensive linemen line to play.
2. CBS:
How did Wade get over what happened last year in Dallas with him being fired in the middle of the season and then having to take a step down and go back to being a coordinator again?
Phillips:
I don't know. It's just football. It's like a game. When it's over, it's over, and you get ready for the next one. He's always had good teams. I think he's a great football coach. Thirty five years is a long time to stay in the league, so he must be doing something right.
CBS:
You coached with Wade for many years. He was your assistant in Houston and in New Orleans. What was it like to coach with your boy?
Phillips:
It was like coaching with anybody else. He's my own son, but he was a good football coach. He did exactly what we asked him to do. And he did it well. I was very close to all my coaches. One of them just happened to be my son. I never looked at it like that he was my son. He was always just a coach. He didn't get any favors. He didn't get any undo fussing out.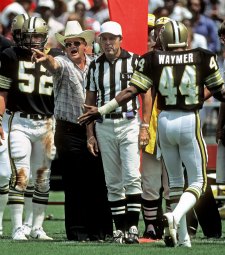 3. CBS:
Talk to me about bringing the 3-4 to the NFL.
Phillips:
Pretty easy. I found about it when I was coaching in high school. We put it in here when I got in pro ball, because football is all about using the personnel you've got. You have to get the best 11 defensive players on the field. It's up to you to put them in a situation where you can use them all. If you're short on linemen like we were in San Diego (in the late 1960s) and you had four really, really good linebackers where we couldn't play all four of them, you utilized your best people. But after Chicago beat us bad in the preseason, Sid (Gillman) made me go back to the 4-3 defense. When I was at Oklahoma State (in 1973), Sid asked me to come to Houston as the defensive coordinator, and I said I would do it if he let me play the defense that fit the guys we had. He said sure, and we played the 3-4. I knew it would work. We were the first to do it down-in and down-out. Other people used it as a prevent defense if they were winning the game. You know, put eight back in the secondary and rush three. But I knew darn good and well it would work.
CBS:
Did other coaches at the time think it was a gimmick? Is that why Sid Gillman didn't want to stick with it in San Diego?
Phillips:
No, it wasn't a gimmick. Everybody thought it was. We put it in Houston in 1974, and by 1976, 19 times were using it. It had never been used in pro ball. They said you would have a hard time stopping people with three linemen and four linebackers. But those linebackers are like defensive ends, and it's a great way to rush the passer.
They've changed it a lot (in the current NFL) since we started using it. But that's what you have to do in football. Now, they offset the nose tackle. Now, some people drop into a 3 technique on the weak side. Pittsburgh plays a 3-4 defense but they do it differently. It's just something that's evolved. They've improved it.
4. CBS:
How much do you follow the NFL these days? Are you watching games every week?
Phillips:
Sure. I watch more now than I used to (laughs). Nah, not really. But I've got a TV where you can record them. I'll record three or four, and I'll watch one or two at the same time and then go back afterward and watch the others.
CBS:
And you're watching all the Texans game I guess, right?
Phillips:
Oh hell yes.
5. CBS:
What do the Texans do now that they don't have Matt Schaub for the rest of the year?
Phillips:
That's going to hurt them quite a bit. One of the reasons the defense has been good was because Matt Schaub could move the ball down the field. It's going to take a really, really good effort from everybody. It's not just as easy to say we're going to change the quarterback or just run the ball. If they put enough guys up there in the box, you can't run the ball. It still goes back to the quarterback needing to complete passes. They might put seven, eight or nine guys in the box.
CBS:
You know, with those running backs, they should just install the wishbone.
Phillips:
I don't think they'd do it.
CBS:
Well, I'm just kidding, but Denver has been doing the read option with Tim Tebow.
Phillips:
But here's the problem. One of those options is the quarterback is going to have to keep it sometimes. If the defense takes the pitch man and the dive man away, the quarterback has to keep the ball. I just don't think the quarterback can do that for 16 games. Having to run every now and then because you don't have anybody open, you can get tackled by one guy. But when he's running the option, there's going to be three or four people hitting you at times.
They need to try to win ballgames. They're talking about the kid not throwing but eight passes. Hell, he ran the ball. What do you need? You need to move the ball consistently. That's what you're supposed to do. You don't have to throw 30 passes a game if you can win the ballgame running. If you take eight passes, who cares if you're winning?
For more NFL news, rumors and analysis, follow

@EyeOnNFL

on Twitter and subscribe to our
RSS Feed
.