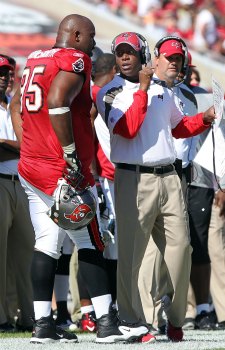 Posted by Josh Katzowitz
We've poked plenty of fun at
Albert Haynesworth
's expense since the Eye on Football blog came into being, because No. 1, that's what we do and No. 2, Haynesworth has made it so easy.
So, we should point out the positive impact made by Haynesworth in his first week in Tampa Bay because No. 1, we want to be fair and balanced in our coverage of him and No. 2, it'll be nearly impossible for those good vibes to last.
We know Haynesworth has been lazy and money-hungry and an unwilling team player. But he's trying to change, because, really, how many chances does he expect to get now that the
Redskins
and
Patriots
made a show of wiping their hands of him?
And he actually played well for the
Buccaneers
last week, making five tackles and blocking an extra point (the latter, especially, requires the sort of effort we rarely see from Haynesworth).
"I wouldn't say it did anything for my confidence because I know what kind of player I was,'' Haynesworth said, via the
Tampa Tribune
. "When I looked at the film, I saw things I've got to improve on, but playing in this system is almost like getting back to what I did at Tennessee."
Ah, Tennessee, the place for which he's apparently longed since he left to sign a gargantuan deal with the Redskins.
It was in Tennessee that Haynesworth had his greatest success, in part because of his defensive line coach Jim Washburn. But after he left, Haynesworth has fallen on hard times (on the field and in the legal system).
But now it seems -- and remember, it's still extremely early in his Tampa Bay tenure -- he's taken on more of a mentor role.
"Albert's a great guy, almost like a coach around here,'' defensive end
Da'Quan Bowers
said. "He comes and tells me little things in my ear to try to make me a better player. Everyone seems to think he has a negative attitude, but I haven't seen it. Hopefully, he stays positive and I think he will.''
So, that's great news for the Buccaneers organization. But is anybody going to be surprised when this deal begins to go south and Haynesworth stops caring and stops putting forth an effort? No. In fact, we'd be more surprised if it doesn't go south by the end of the season, because No. 1 and No. 2, we've seen this show before.
For more NFL news, rumors and analysis, follow

@EyeOnNFL

on Twitter and subscribe to our
RSS Feed
.