Posted by Josh Katzowitz
Now that
Bears
coach Lovie Smith has officially confirmed the news that
Jay Cutler
broke his thumb* while trying to make a tackle after an interception during Chicago's win against the
Chargers
on Sunday, we wonder where the Bears offense goes from here.
*You can see video of the play here.
The quick reaction from across the league has been definitive: the Bears are screwed. And it's hard not to disagree, especially when you consider
Caleb Hanie
is the new starting quarterback and fifth-round pick
Nathan Enderle
(if you haven't heard of him, that's OK -- he played his college ball at Idaho) is his backup. That could be a recipe for disaster.
Hanie has played a total of seven games in his three-year career, and in the regular season, he's completed 8 of 14 passes for 66 yards. But his real moment to shine occurred during last year's NFC championship game (you might remember it because Cutler injured his knee, couldn't return to the game and got toasted for it by his colleagues on Twitter) when he completed 13 of 20 passes for 153 yards, a touchdown and two interceptions in Chicago's 21-14 loss.
The Bears most likely will have to sign a third quarterback for the roster (or a fourth, assuming they don't place Cutler on IR, and for now, the Bears don't have a timetable for his return), and they'll have to troll the free agent market to do so. Chances are, they won't get somebody more prepared to play in this offense than Hanie, but an experienced quarterback could add depth and keep Enderle from having to come into the game.
Here is a list of five potential free agents the Bears could target.

Marc Bulger:
This one seems the most obvious, because Bulger worked under Bears offensive coordinator Mike Martz when Martz was the head coach in St. Louis. In order for an incoming free agent to have any chance of playing this season for the Bears, he most likely would need to have knowledge of Martz's style of play. Bulger has that. But Bulger has made it clear he's not interested in returning to football. He told the
Ravens
at the beginning of season to give him a call if
Joe Flacco
suffered an injury, but since then, Bulger has told at least one team that he's not interested in playing football anymore. Unless Bulger was guaranteed that he would be a backup, the Bears probably should move on.
Chances of this happening: 10 percent
Trent Edwards:
After he didn't make the
Raiders
squad out of training camp, Edwards actually had a chance to sign with the
Dolphins
once they lost
Chad Henne
. But Edwards took one look at that franchise and said thanks, but no thanks (
Matt Moore
, by the way, is forever grateful). Edwards actually had a decent year as the
Bills
starter in 2008, but he eventually lost that job to
Ryan Fitzpatrick
. The problem with Edwards, though, is that he's not been especially good for the past three years. I mean, if
Kyle Boller
beats you out of a backup job, that's not a very good sign.
Chances of this happening: 8 percent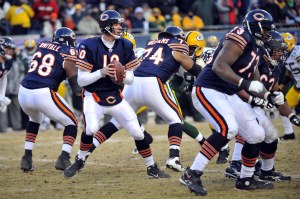 Todd Collins:
Just because Collins is 40 years old (!) and got yanked for Hanie after Collins briefly replaced Cutler in the NFC championship game last year (as seen in the picture at left) doesn't mean the Bears shouldn't look at him anyway. Collins spent a season with Martz, so he should know the offense relatively well. The problem is that Collins has never been anything more than an NFL backup, and if you had to pick between Collins and Enderle, you might be better suited to go with the rookie. But for some reason, I think there's a chance Chicago could turn back to Collins if things get desperate.
Chances of this happening: 20 percent
Jake Delhomme:
If the Bears were looking for a Collins alternative who is four years younger with infinitely more NFL success, they could do worse than Delhomme. That said, Delhomme was a disaster last year in Cleveland and eventually gave way to
Colt McCoy
. Though there reportedly was interest in him by the
Browns
and the Dolphins this year, Delhomme isn't doing much of anything these days (except for sending John Fox
congratulatory text messages
). Fortunately, the Bears coaching staff would have the ability to watch film from Delhomme's stay in Cleveland last year. And that should be enough to force the coaches to toss Delhomme's number in the trash.
Chances of this happening: 5 percent
Brett Favre:
Stop it. Just … stop it.
Chances of this happening: 0.5 percentFor more NFL news, rumors and analysis, follow

@EyeOnNFL

on Twitter and subscribe to our
RSS Feed
.