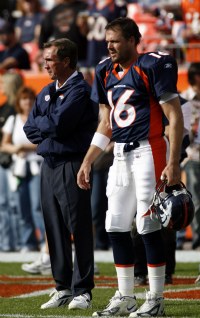 Posted by Josh Katzowitz
You have to love former
Broncos
and
Cardinals
quarterback Jake Plummer. He retired after the 2006 season with a starting record of 69-67 and with 161 touchdowns and 161 interceptions. The guy was Even Steven, and these days, he's gotten
into team handball.
And he still does a strong radio interview, as evidenced by his appearance on XTRA Sports 910 in Phoenix today .
A sampling:
When asked about Denver's love affair with a quarterback who "can't complete a forward pass," Plummer (who went 39-15 during his time with the Broncos) said, "I'm telling you I came in at the wrong time down there. He is a winner though. I like that because I think the town and the fans and everybody there -- they are craving a winner.
"They lost one when I was run out of town. I don't have to say it. We won a lot of games when I was playing. It wasn't all me. … I didn't do it all, but we won and I think you can see (that) with (Tim) Tebow. He knows he's not the only cog down there, (but) as a piece of that puzzle that is making them win and helping them win."
Oh, you have something else say about Tebow? Go right ahead.
"I think he's a winner and I respect that about him," Plummer said, via
sportsradiointerviews.com
. "I think that when he accepts the fact that we know that he loves Jesus Christ then I think I'll like him a little better. I don't hate him because of that, I just would rather not have to hear that every single time he takes a good snap or makes a good handoff…like you know, I understand dude where you're coming from….but he is a baller."
Plummer also was asked about Mike Shanahan, his former coach, and while he said he hated to see him struggle … well … "Hey I was lucky to get the opportunity to play for Shanahan. He helped turn my career around and gave me a chance to show that I was a winner regardless of how things went down. His style is just what it is. I think we are seeing he isn't the special coach we thought he was. He's a great coach, but he's not like some of those guys that will take a player…Coach [John] Fox, man, look at what he is doing. You think he is going to force Tebow to throw 30 times a game? No. They are going to try to win with what he can do and it is kind of fun to see since they are bucking the system in the NFL. They are running the option. Are you kidding me?"
For more NFL news, rumors and analysis, follow

@EyeOnNFL

on Twitter and subscribe to our
RSS Feed
.