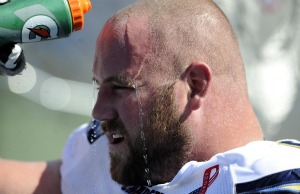 Posted by Josh Katzowitz
When
Chargers
guard
Kris Dielman
suffered a concussion in the Oct. 23 game vs. the
Jets
, the game officials sensed something was wrong with the way he wobbled and fell down after his collision with
Calvin Pace
. But Dielman ignored the officials' advances and stayed in the game, and the Chargers coaching and training staff didn't force him to return to the sideline.
On the plane ride home, Dielman suffered a
grand mal seizure
, and since then, the NFL has come under greater scrutiny, even though San Diego coach Norv Turner said at the time, "Everything was handled extremely well."
Obviously, the league has disagreed. Although the NFL told officials to be on the lookout for players suffering from head injuries, the league is giving them some help.
ESPN's
Chris Mortensen is reporting that league observers who sit in the press box for every game now will be responsible for communicating with each teams' training staff in order to care for players who might have suffered concussions.
In a memo sent to each team obtained by ESPN, the league writes, "A direct ring-down phone line must be in place from the NFL Observer position in the press box to both the home and visiting bench areas. This line should be clearly marked on the NFL Observer's phone. The purpose of the additional phone lines is to allow the NFL Observer to alert the Athletic Training staff to a possible injury that may have been missed at field-level."
After receiving a call from the observer, the training staff will be responsible to double-check the player to determine whether he can continue to play.
The reason the observer could be a better judge of whether a player should be observed than an on-field official is because the observer will have access to game broadcast replays to determine more accurately where a player was hit and what his reaction was.
After the Dielman incident, this is what NFLPA medical director Dr. Thomas Mayer had to say:
"I've looked at the play at least a hundred times. And not only does the broadcast footage provide a clear visual record, you can hear the collision loud and clear on the audio. It really was an unfortunate event, but this is a process and an opportunity to further strengthen our protocol. There are a lot of lessons to be learned here."
And one lesson to be learned is that an extra set of ears and eyes can be helpful in helping a player avoid a potentially dangerous situation. Because as we see time and time again, players are willing to ignore their head injuries in order to get back in the game. We need somebody to save them from themselves.
For more NFL news, rumors and analysis, follow

@EyeOnNFL

on Twitter and subscribe to our
RSS Feed
.