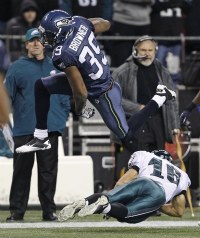 Posted by Josh Katzowitz
All week long, radio hosts have wondered about the hot seat of Andy Reid, and each time they ask me, I say, "No, I think Reid is fine. He'll have to fire some of his assistant coaches, but he'll survive because of his resume. And besides, if Reid is fired, it won't be long before Philly fans miss him."
I'm beginning to think I might be wrong.
The
Eagles
looked horrendous for most of their 31-14 loss to the
Seahawks
on Thursday night, and though I still believe Reid deserves another year (defensive coordinator Juan Castillo, I believe, does not), his team isn't doing him any favors.
On the first play from scrimmage,
Vince Young
threw a disappointing interception (everybody on Twitter wrote at the same time: "Where in the hell was VY throwing?"), and Philadelphia struggled to get on track.
Marshawn Lynch
broke what seemed like a half-dozen Eagles tackles en route to his first touchdown run, and on his second, the gap vacated by Philadelphia's defenders was immense.
The Eagles had a tough time stopping Lynch, the human Skittle-eating machine who rushed for 148 yards and two scores on 22 carries, and even quarterback
Tarvaris Jackson
(13 of 16, 190 yards, one touchdown) was efficient.
And then there's
DeSean Jackson
. It's hard to figure what's running through his head lately. It'll be tough, after all, to get paid a significant amount of money as a free agent when
Riley Cooper
is outplaying you. There's been talk that the Eagles might simply franchise-tag him for next season and then trade him away, but at this point, Jackson isn't giving his team much of anything. Including, it seems, much effort.
Though it was a touch unfair of the NFL Network to continue showing Jackson appear to ignore Young when the quarterback appeared to be trying to instruct Jackson -- we can't really know if Jackson was truly ignoring him based on what we were shown -- but the fact he just sat there staring straight ahead while Young's lips moved wasn't the greatest PR move.
If it looks like you don't care, it's not the height of hyperbole to say that the people who could give him a ton of money also believe that he doesn't care. That obviously doesn't help his market value, especially when sideline reports said Jackson wasn't talking to his teammates (he didn't have a problem, though, talking to his old Cal buddy Lynch when
Nnamdi Asomugha
lay on the turf with an injury).
After the game,
Philadelphia Inquirer
beat writer Jeff McLane asked one of the Eagles what was up with Jackson? Responded the player: "He's f------ around." When he talked to the media afterward, Jackson said he was frustrated with losing but not with his role on the team. He also didn't want to talk about any dissension on the team. After taking a few of those questions, Jackson turned back into his locker and stopped speaking with reporters.
But Jackson is only one problem, and as we've seen for most of the season, the blame for the Eagles season can't be placed on only one player or one unit or even one side of the ball. You have to believe at this point that it's an atmosphere problem. The person in charge of that, of course, is Reid. Who will continue to face immense heat after this loss.
He still has time to save his job -- and I still think he should keep it -- but he's also beginning to change my mind.
For more NFL news, rumors and analysis, follow

@EyeOnNFL

on Twitter, Like Us on Facebook, subscribe to our NFL newsletter, and while you're add it, add our
RSS Feed
.