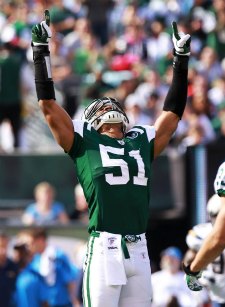 By Josh Katzowitz
From the time he was drafted with the No. 11 overall pick by the
Bills
in 2009 until the beginning of this season – really, until Week 4 of this season – defensive end
Aaron Maybin
was one of the biggest draft busts of the past half-decade (
even a Google search said so!
).
He had been a standout at Penn State, but by the end of 2010, he had been labeled a disappointment. That, of course, is what happens when you start just one game in your first two seasons and don't record a single sack and make just 16 tackles in 27 games -- all the while having signed a five-year contract with $17 million guaranteed after a lengthy holdout. In training camp this year, Buffalo had seen enough of him and let him go,
a surprising admission
that the Bills had made a mistake.
But the mistake might not have been drafting Maybin in the first place. It might have been not giving him an opportunity to play, because this season, after signing with the
Jets
twice, he's recorded six sacks and four forced fumbles. All while making $525,000. On Friday, we caught up with Maybin to talk about his time in Buffalo, his comeback season and why wearing sunglasses indoors doesn't mean you're a bad football player.
Previous Five Questions (or more):

Sept. 16:
Actor/former
Patriots
DB Brian White
Sept. 30:
Bills RB
Fred Jackson
Oct. 7:
Sweetness
author Jeff Pearlman
Oct. 21:
49ers
LB
Aldon Smith

Nov. 4:
Chris Crocker
Nov. 18:
Bum Phillips
1. CBSSports.com:
You've had an interesting career to say the least. Well, definitely an interesting year. You go from being a guy whose name was always next to the word "bust," and now you're a major contender for comeback player of the year. What's that been like?
Aaron Maybin:
Honestly, the only thing I can say about is I've been extremely blessed. You know what I mean? It's been a great year so far. It started off with a whole lot of diversity. At the end of the day, I'm with a team that I have an opportunity to go out and help win football games. That's the position I wanted to be in.
CBS:
Your years in Buffalo, they must have been bad for you and for the team. But always being referred to as a bust, how did you get through that emotionally?
Maybin:
Really, this is the first time anybody asked me about that. I haven't given it much thought. Really, it's simple because in order for you think about it, you have to think "How am I going to get through this" or "Woe is me" or if you're having a pity party. That doesn't get anything accomplished. As bad as things were and as unhappy as I was, dealing with some of those things, the only response is I had to keep working hard. To continue trying new things. That was the only thing I could do.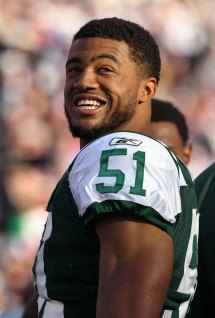 2. CBS:
Then, the Jets cut you earlier this year. At what point did you start to wonder, "Man, maybe the NFL just isn't going to work out for me?"
Maybin:
Even though they cut me after the preseason, I had a productive preseason. I knew I would catch on somewhere.
CBS:
I read that when the Jets wanted to re-sign after Week 3, it was tough to get in touch with you. Your aunt had just died, and you were at her funeral, and nobody could make contact. How did that all down?
Maybin:
It wasn't a funeral. It was she had died that day, and I didn't feel like talking to anybody. I didn't have my phone on or around me.
3. CBS:
What's different about the time in Buffalo as compared to now?
Maybin:
I'm getting the opportunity. You look at the number of plays I've gotten and the amount of pass rushes I've got. At the end of the day, I didn't have the opportunity to do that before. If you watched me during the preseason or anytime I was getting significant snaps, you've seen this. There are a lot of things I need to work on, but the player you're looking at is the same dude that's been there the past few years. I've just blessed to be with a team that's given me the chance.
That was really why I was frustrated before. For whatever reason, I didn't feel as though I was going to get that there. I couldn't understand why. As hard as I worked, I wanted to show them I could be the playmaker, and I couldn't ever convince them. At the end of this day, like I said before, you can't throw yourself a pity party. You can really just put your head down and keep on working as hard as you can. No matter what, that's the only thing I know. That's the only way I know how to get better.
4. CBS:
How much better is life now?
Maybin:
It doesn't even compare. I haven't been as happy as I am now or having as much as fun as I've had probably since I was in high school or college. For me to have been struggling for so long and to be as miserable as I was, I can't even explain it in words. I realize how important this team has been to me and how important the game is. I've had it taken away.
CBS:
It's interesting that you said you were miserable. Most people would think that this guy is making a ton of money and he gets to play pro football, why is he miserable? But that's a real thing.
Maybin:
It's not about the money. That's just like them saying, "If you're making money, regardless of whether the team is winning or losing, you should be happy." No, you shouldn't. l'm not a paycheck player. If I'm not having the opportunity to play that game, I'm not doing anything but collecting a check. I knew I couldn't be happy until I was at least contributing to a win or a loss.
5. CBS:
How much have you grown up since Buffalo, just in the last year? There were reports that you were referred to as
Mr. Cool and wore sunglasses at meetings
in Buffalo. How much have you changed?
Maybin:
I've grown up a whole lot. But if that's what measures being grown or not, I don't really know how to explain that. I've always put 110 percent of what I have into my job and what I do. There's never been a day I haven't taken my job seriously. I can't really say I approach my work or my job with any more serious of a demeanor as I did before. I've always taken it seriously. If me wearing glasses is what kept me from being a good football player, that's unfortunate. I doubt that anybody here cares about that.
CBS:
That's a fair point but …
Maybin:
If somebody says something about why I'm not successful, like you just did, I want to hear how I can't play football or that I don't work hard or that I don't sacrifice for his team. And I never heard anybody say anything about that. Whether I wore glasses, that to me doesn't define me as a player. I'm a team player, and all I've cared about is winning.
For more NFL news, rumors and analysis, follow

@EyeOnNFL

on Twitter, Like Us on Facebook, subscribe to our NFL newsletter, and while you're add it, add our
RSS Feed
.