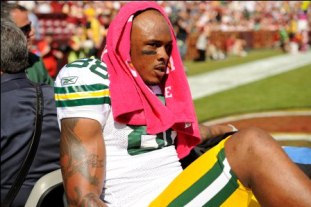 By Josh Katzowitz
You might have noticed that for the past, oh, two months or so, we've gotten a little
Tim Tebow
crazy on the Eye on Football blog*. That's because, well, the dude is 7-1 as a starter, because he's so hated and so loved at the same time, because he's a leader of men, a winner (via Clark Judge) and a terrible quarterback (via Pete Prisco).
*Not that we're any different than the rest of the football-loving world.
Me, I love the storyline, because it grows more improbable each week. Sure, if a network is devoting hours a day to Tebow coverage, yeah, that's a bit much. But it's a fun ride, and in our view, we're having a blast with the view Tebow is providing (and
what happens
, pray tell, if the
Broncos
actually beat the
Patriots
on Sunday?).
That said, others NFL players aren't quite as pleased at how much coverage Tebow has received since taking over for
Kyle Orton
in Denver.
Take, for instance,
Packers
tight end
Jermichael Finley
(by the way, a guy who doesn't seem to mind a little attention). Finley told the
Milwaukee Journal Sentinel
that his quarterback,
Aaron Rodgers
, should be receiving the attention that Tebow has gotten this year.
"I sit at home, start watching TV and all I'm seeing is Tebow," Finley said. "That's kind of disturbing. We have a guy here that's breaking records every week and you have a guy in Tebow that's saying 'God' every word and he gets coverage. Of course I love my faith and God but come on man."
Also, this:
"He's telling everybody what they want to hear," Finley said. "You see him and he's patting everybody on the back saying, 'You're going to make this catch. I promise because God said,' And he makes it happen. Stuff like that. It confuses people. People that don't know the game outside of the fans, of course they're going to hype it up. But guys that see a good player and a good quarterback, they know what kind of guy he'll be down the road when he gets exposed. Everybody who knows the game knows what kind of player Tebow is going to be."
That could be, and like Finley implies, Rodgers is light years ahead of Tebow (and probably light years of where Tebow ever hopes to be) when it comes to playing quarterback. But let's face it: the Packers have gotten plenty of coverage this year, and you can't turn on a football game without seeing that Discount Double Check commercial starring Rodgers as a dancer and a robot.
Finley, though, isn't alone in his critique of the media coverage surrounding Tebow. Like
CBSSports.com's
Ryan Wilson told you the other day,
Ravens
quarterback
Joe Flacco
is offended by all the Tebow love as well.
"I like Tim, but you have a tendency to want to, I don't want to see Tim do bad, but look what happens after he wins a football game," he said. "If you watched SportsCenter [Monday] it was Tim Tebow then something else, Tim Tebow then something else, and Tim Tebow then something else. When we beat the
Steelers
, were we on TV? No. I couldn't even find a Baltimore Ravens highlight. I think that's kinda the way it is around Baltimore. We don't always get our respect but you gotta deal with it and go out there every week and just win football games."
Funny thing about Tebow: he just wins games and he always doesn't get the respect. So, when you think about it, Flacco and Tebow are kind of in the same situation. Except nobody knows what the hell Flacco-ing is.
For more NFL news, rumors and analysis, follow

@EyeOnNFL

on Twitter, Like Us on Facebook, subscribe to our NFL newsletter, and while you're add it, add our
RSS Feed
.