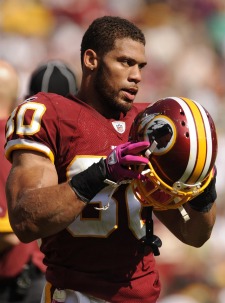 By Josh Katzowitz
Safety
LaRon Landry
was the No. 6 overall pick in the 2007 draft, and as he nears the end of his initial rookie contract, his hope of finding a big payday seems to have decreased.
Namely, because he ended last year on the IR list with an Achilles tendon issue and because the
Redskins
have done the same thing to him this season for the same injury.
Making matters worse: he needs surgery.
"I think everybody will be taking a look at it," Washington coach Mike Shanahan said, via the
Washington Post
. "Not just us, saying, 'Hey, let's look at the surgery, let's take a look at what Dr. (Robert) Anderson says, how long the rehab will be, how long it will take to come back full-speed.' I think everybody will make decisions then."
According to the paper, Landry, who is making $3.175 million this year, has been wrestling with the decision to undergo surgery on his foot or just try to play through the injury in order to make himself more appealing to potential employers but also risk hurting himself more.
"I think it's been more frustrating than anything," said safeties coach Steve Jackson. "Not only is it a contract year, but after the season he started off with last year, he wanted to surpass that. There were a lot of expectations he put on himself, and unfortunately with the injuries, he hasn't been able to achieve his goals."
It
is
unfortunate for Landry, who was enjoying a career year last season (85 tackles, a sack and an interception in nine games) before his tendon ended it all. He didn't have surgery in the offseason (instead, he underwent shockwave therapy and plasma treatments) and hoped his tendon would respond well. But midway through this season, he strained it again.
Now, his hopes for a big second contract are dwindling.
"I'm even considering coming here and signing another one-year" contract, Landry said recently. "Even if I have to come here and sign a one-year just to solidify myself and not have to worry about trying to get the big-dollar [contract this year], I'd do that. Because I admit, this season has been kind of shaky.
"But this would let me come back. . . and show what I'm really capable of doing, which is the only right thing to do in my mind. But I haven't talked to my agent about this yet. Every time I get ready to call him, I just get frustrated, and then I end up not being able to talk (it)."
For more NFL news, rumors and analysis, follow

@EyeOnNFL

on Twitter, Like Us on Facebook, subscribe to our NFL newsletter, and while you're add it, add our
RSS Feed
.