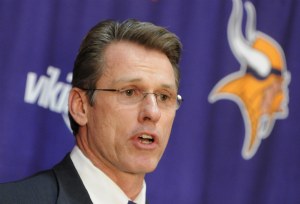 By Josh Katzowitz
New
Vikings
general manager Rick Spielman has been making the radio rounds today, and we already told you that he declared
Christian Ponder
to be
the starting quarterback for next season
(though Spielman didn't say necessarily that Ponder was the quarterback of the future).
But you might be asking yourself this: Wait a tick, how did Spielman, the former vice president of player personnel, get promoted to the GM spot when the Vikings are coming off a 3-13 season? I commend you for thinking of that, because it's a good question.
"I think what the ownership is doing is they see the body of work that's been done," Spielman said, according to the
Minneapolis Star Tribune
. "I think what they want to see is by putting this structure in place, is this going to help clarify things on how we're doing things moving forward? And I know in this role, you're going to have to prove yourself. You're going to have to make the right decisions. You're going to have to get this football team better. But that's part of making some changes and putting me in this role."
Before, the Vikings had shared authority with coach Leslie Frazier and other team executives. Now, it'll be the traditional hierarchy of the GM controlling the personnel, the owners controlling the fate of Frazier, and Frazier controlling his coaching staff.
"With the general manager's title, you're going to be out in front more, dealing with issues that do arise," Spielman said. "You're going to know from the standpoint of when we do make personnel moves and personnel decisions who's responsible for those decisions? It's not going to be, 'Did he do this?' Or 'Did he do that?' It's all my responsibility now. That's going to be the biggest change. Now when we start making roster moves and things like that, the coaches and everybody will be involved in that process. But I'll have the ability to make the final say on how we're going to move forward."
Spielman was previously the GM in Miami, though his time with the
Dolphins
was short and unproductive. In Minnesota, he's made some solid moves, including trading for
Jared Allen
and drafting
Adrian Peterson
and
Percy Harvin
.
Basically, now, Spielman's neck is on the line. If the team improves, that's great and he'll get the credit. If not, now the fans can put a face on the organization's failures, and it'll be the face of Spielman.
For more NFL news, rumors and analysis, follow

@EyeOnNFL

on Twitter, Like Us on Facebook, subscribe to our NFL newsletter, and while you're add it, add our
RSS Feed
.