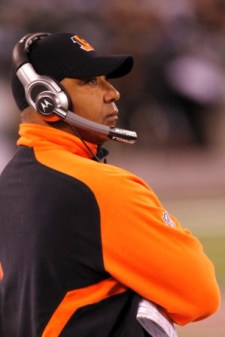 By Josh Katzowitz
Bengals
coach Marvin Lewis isn't known as one of the game's great challenging coaches. As in, he oftentimes throws the red challenge flag on plays that clearly shouldn't be challenged.
The last time the Bengals were in the playoffs, after the 2009 season, Lewis challenged official's rulings early in the game vs. the
Jets
. He lost both, and New York went on to upset the Bengals in Cincinnati.
At halftime Saturday, with the
Texans
leading
17-10
, Cincinnati -- and Lewis -- is, once again, out of challenges for the rest of the game.
While his second challenge wasn't a terrible idea -- it was unclear whether Texans tight end
Owen Daniels
had made a first-down reception, or if the Bengals had caused an incompletion (though
Adam Jones
was awfully adamant that it was NOT a catch) -- his first challenge was a disaster.
That occurred on a second-and-two early in the second quarter when
Cedric Benson
went off right guard to gain one yard. But Lewis was led to believe that Benson actually had made the first down. Instead, after reviewing the call, officials upheld the original spot. On third-and-inches,
Andy Dalton
sneaked up the middle for the first down.
Which certainly could have been accomplished without challenging the second down in the first place. So, it was all for nothing in the end.
But because the challenges were ridiculous and because it created an instant firestorm on Twitter, here were my favorite reactions to Lewis' bad decisions.
@willbrinson (Sorry, had to go with at least one CBSSports.com account): The Bengals should try to trade one of the Raiders picks for more challenges.
@JeromeSolomon I see what Marvin was doing. With no more challenges, he can't make another stupid challenge.
@FO_MTanier Challenges squandered like so many of the opportunities of youth.
@FauxJohnMadden It wouldn't be a Bengals playoff game without a random awful challenge from Marvin Lewis.
@CindyBoren Bengals should do a ceremonial burning of the challenge flag while Marvin Lewis speaks at halftime.
For more NFL news, rumors and analysis, follow

@EyeOnNFL

on Twitter, Like Us on Facebook, subscribe to our NFL newsletter, and while you're add it, add our
RSS Feed
.