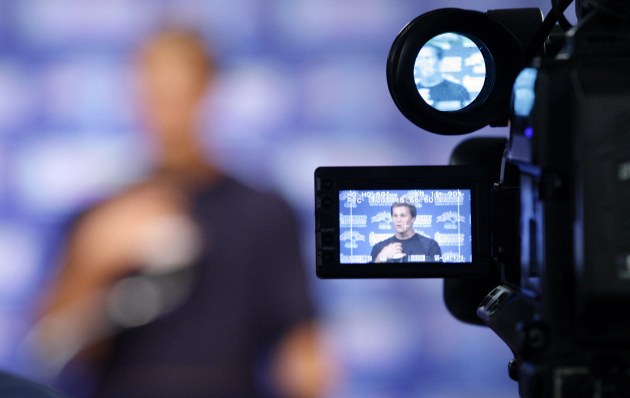 By Josh Katzowitz
While
Patriots
coach Bill Belichick has a well-earned reputation for being a press conference bore, quarterback
Tom Brady
seems to get a pass when it comes to how (un)interesting his answers from reporters can be.
Well, a new study from the student-run
Harvard Sports Analyst Collective
reports that Belichick and Brady actually aren't much different when they're addressing the media.
As in, both of them kind of stink.
The HSAC analyzed the speaking patterns of Belichick and Brady from the transcripts of postgame pressers, and the collective found that Belichick's answers average 72 words while Brady is slightly less than that with 60 words. After a loss, though, Brady's average response is 59 while Belichick's answers drop to an amazingly low 25 words (to give you an indication of how long that kind of answer would look on a piece of paper, this parenthetical aside is 25 words). Considering Belichik's post-win answers average 82 words, you could make the case that Belichick is an awfully sore loser.
The HSAC also analyzed the most-used words by the two (click
this link
to see the top-10), and as the authors pen, "Unsurprisingly, the results for Belichick include a list of profoundly uninteresting words, matching his style at the podium. And Brady, though his list includes a few more syllables, isn't conveying much more meaning; 'We gave them another chance' tells me just as much (or little) as' We didn't take advantage of our opportunities.'"
So, what do we draw from all this analysis? Ah, not much really. But by working with a quarterback and a coach who don't seem to enjoy dealing with the media, you have to give props to those Boston-area reporters who have effectively learned to adjust their coverage around the lack of verbiage that emerges from the tongues of these two.
And while you might think dealing with Brady would be better than having to question Belichick (as I would have guessed), the HSAC has this to say: "Personally, we appreciate Belichick's approach. The Hoodie has no intention of giving comprehensive answers to anyone's questions, but at least he doesn't pretend to by dragging out the same timeworn clichés heard all over the sporting world. His concern is winning football games, and the less other people know about how he does it, the better."
For more NFL news, rumors and analysis, follow

@EyeOnNFL

on Twitter, Like Us on Facebook, subscribe to our NFL newsletter, and while you're add it, add our
RSS Feed
.