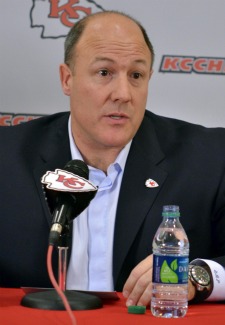 By Josh Katzowitz
In what has to be one of the most interesting ledes of the day and one of the most fascinating stories of the new year, the
Kansas City Star's
Kent Babb describes the level of paranoia and job security fears that have descended upon the
Chiefs
since general manager Scott Pioli took over the team in 2009.
Paranoia, in fact, runs so rampant that former coach Todd Haley believed that his offices were bugged and that his personal cell phone had been corrupted.
First, the lede:
Todd Haley walked into the public relations office at Chiefs headquarters on a Thursday in early December. Four days before he was fired as the team's coach, he wanted to talk about what life was like inside this organization. But he didn't know who else might be listening.

Looking up toward the ceiling, he darted into a back hallway before hesitating. Then he turned around, going back through a door and stopping again. Haley suspected that many rooms at the team facility were bugged so that team administrators could monitor employees' conversations. Stopping finally in a conference room, Haley said he believed his personal cellphone, a line he used before being hired by the Chiefs in 2009, had been tampered with.
As Babb writes, the team denies any of these covert operations, but what apparently is not in dispute by those who speak anonymously is that intimidation and secrecy are major parts of the current administration's methods.
"When you're mentally abused, you eventually lose it, too," one former longtime Chiefs executive told the paper.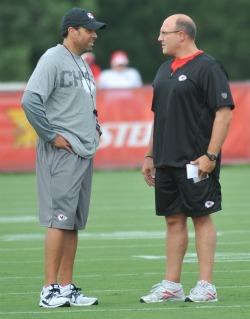 Chiefs owner Clark Hunt, though, defended his organization and its hiring of Pioli.
"We needed a culture that pursued excellence," he said. "One that valued honesty and integrity, one where the employees would be held accountable."
Haley's paranoia was probably justified. Back in October, we told you that Pioli was
on the verge of firing Haley
, even though Haley had led the Chiefs to the AFC West title the season before. Haley temporarily saved his job with a winning streak, but not for long.
Yet, this question also is asked:
Is the current culture all Pioli's doing, or is he acting on the orders of Hunt? One former VP of sales and marketing, who resigned in October, said, "It's professional football, and I do think that it can be a bit of a pressure cooker. To attribute that to Scott Pioli is unfair."
But read Babb's story. Some of the details in the article are amazing, including Pioli's demand that team employees who have offices facing the practice field
must
keep their window shades drawn during team workouts. Amazingly that includes team president Mark Donovan.
For more NFL news, rumors and analysis, follow

@EyeOnNFL

on Twitter, Like Us on Facebook, subscribe to our NFL newsletter, and while you're add it, add our
RSS Feed
.