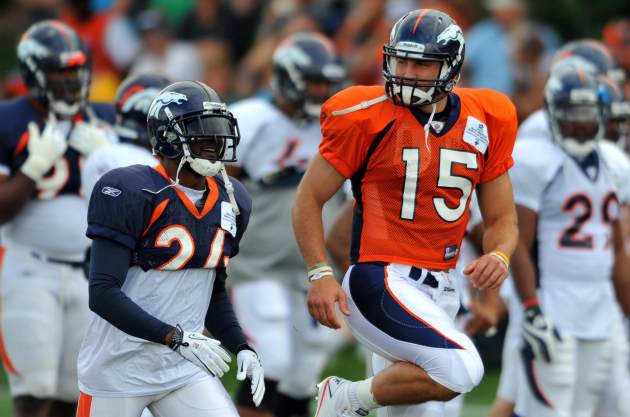 By Josh Katzowitz
One reason the run of
Tim Tebow
this year was so surprising was because, even though Tebow obviously has major flaws with his mechanics, that didn't seem to matter to his teammates. The
Broncos
seemed to elevate their play late in games, and even veterans like cornerback
Champ Bailey
looked to Tebow as a team leader. Like Tebow's belief in God, his teammates simply had faith in Tebow.
But now that the season over (after a Broncos playoff victory, nonetheless), at least one of Tebow's teammates said he needs to see improvement in his quarterback.
"I think Tim has a lot to prove still," Bailey said Wednesday on Jim Rome Is Burning (H/T to
PFT
). "He's proven he can win some tough games. Now it's just being consistent. One thing about him, he's going to work at it. And I'm behind him 100 percent."
That's the thing. His teammates are supposedly behind him 100 percent, but before the playoff games vs. the
Steelers
and
Patriots
, they also supposedly were OK with the report that Tebow wouldn't necessarily have a long leash with the coaching staff if those games weren't going well. When
Brady Quinn
is the backup, that doesn't speak well of the confidence the coaching staff ultimately had in Tebow.
Even when John Elway
says the following
: "Tim has earned the right to be the starting quarterback going into training camp next year," you still have to wonder if the Broncos front office and coach John Fox
truly believe that
.
One aspect of his game that Tebow must improve -- at least in Bailey's eyes -- is his arm strength and accuracy. Plus, you know, his ability to stay in the pocket and be effective.
"I think at some point he'll have to be if he wants to play a long time," Bailey said. "That's one area he's going to have to improve to be elite in this league. But the things he does running the ball -- he can make some throws, it's just being comfortable doing it. He's got to get better at it, and when he does, the sky's the limit for him."
Even so, the Broncos almost have to bring in a veteran quarterback to compete with Tebow for the starting quarterback spot. But if you look at this list of potential free agent quarterbacks put together by
CBSSports.com's
Ryan Wilson, Tebow might be the best bet after all. As long as his teammates continue to believe.
For more NFL news, rumors and analysis, follow

@EyeOnNFL

on Twitter, Like Us on Facebook, subscribe to our NFL newsletter, and while you're add it, add our
RSS Feed
.