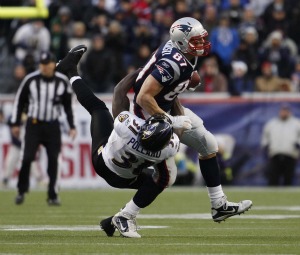 By Josh Katzowitz
If
Bernard Pollard
wanted to ingratiate himself to the
Patriots
fanbase -- and really, why on earth would he want to do that? -- he's going about it the wrong way.
While he was interviewed by KILT radio in Houston (via
sportsradiointerviews.com
), Pollard was asked his opinion about the Super Bowl XLVI matchup between the Patriots and the
Giants
.
"I really hope the Giants -- I just hope they just put a thrashing on the Patriots," Pollard said. "I really do. To lose to a team like that the way we played. We played a good game."
While it's true that the
Ravens
played better than expected -- especially quarterback
Joe Flacco
-- and the Patriots (especially quarterback
Tom Brady
)
didn't play quite as well
as we would have thought, the simple fact of the matter is … well, Pollard will be watching the game on TV. Because sometimes the team that plays better loses the game anyway.
But he makes a good point about the Super Bowl when he said this, "You gotta look at the experience of the team. What do the Giants have? They got a front four that is relentless. They got a secondary that is really, really good. They got a linebacking core that has been with them. The (Patriots) dinking and the dunking, man? It's just not going to happen. They are going to have to take shots down the field. I think the Giants watch our film and watch the film of the season. They gotta take away their big time players. [Rob] Gronkowski I think he is coming off that ankle, so I don't know if he will be 100 percent."
Chances are, Gronkowski won't be 100 percent. Even though
he's set to play
in Indianapolis, the
Boston Herald
reported today that Gronkowski sustained ligament damage when Pollard tackled him in the third quarter of the AFC title game.
Speaking of Gronkowski and Pollard, what does Pollard think about adding to his reputation as a Patriots killer (first Brady, then
Wes Welker
and now, Gronkowski)?
"Oh man, that is fine and dandy," Pollard said. "It is part of the game and this is what happens. If you don't like it? So what. I am going to go out there and I am going to play me."
For more NFL news, rumors and analysis, follow

@EyeOnNFL

on Twitter, Like Us on Facebook, subscribe to our NFL newsletter, and while you're add it, add our
RSS Feed
.