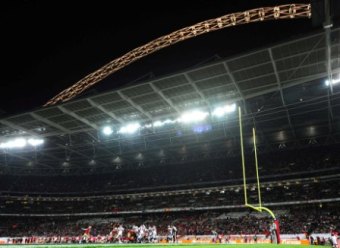 By Josh Katzowitz
Earlier this month, the NFL announced that the
Rams
would be headed to London to play one regular-season game per year
from 2012-14
. We can argue about whether it's a good idea for the struggling franchise to make such a commitment (I say it's a
bad, bad idea
), but that's not what interests the city of St. Louis.
No, what the City of St. Louis Convention and Visitors Commission is concerned about is whether the games violate the Rams lease with the Edward Jones Dome. As in, the lease apparently states that all St. Louis home games must be played in the Dome. And since the next three London games will be considered Rams home games, that's a bit of a problem.
For owner Stan Kroenke, who also owns the English Premiere League's Arsenal soccer team, traveling to London every year with his Rams squad is probably a great move. But for the city that actually houses his NFL franchise, it's less so.
As the
St. Louis Post Dispatch
writes, "A section of the Rams' lease at the Dome calls for the team 'to play all its home NFL Games (other than pre-season NFL Games) at the Facilities.' The Rams can disregard this rule if the Dome is not in useable condition or if the lease is terminated, according to that section of the lease."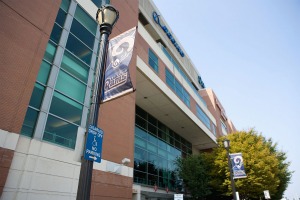 There's little doubt that the trip would be a financial gain for the Rams. Wembley Stadium seats about 14,000 more than the Edward Jones Dome, and considering St. Louis will face the
Patriots
, UK interest in the game should be high next year. Also, the NFL guarantees the home team a ticket revenue that's equal to a regular home-game sellout plus the trip expenses.
But still, this calls back to the question on whether the Rams are being fair with their fan base by leaving for London for three consecutive seasons.
While the city agrees with Kroenke that the selection of the franchise by the NFL for the international game is an honor, it also emailed a statement to the paper that read, "Our lease with the Rams requires that the Rams play all their home games in the Edward Jones Dome. We immediately brought this to the Rams' attention and are awaiting their reply."
Said Jeff Rainford, the chief of staff to St. Louis mayor Francis Slay: "I think it's obvious that the Rams expect the CVC to adhere to the terms of the lease. And I think it's reasonable for CVC to expect the Rams adhere to the lease."
For more NFL news, rumors and analysis, follow

@EyeOnNFL

on Twitter, Like Us on Facebook, subscribe to our NFL newsletter, and while you're add it, add our
RSS Feed
.