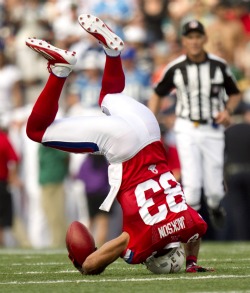 By Josh Katzowitz
A couple new exciting (!) features this season were supposed to make this year's Pro Bowl slightly more palatable. It didn't exactly work.
The first change was to make it a more financially-sound decision for the players to give an effort by rewarding the winning players with $50,000 and the losers a paltry $25,000.*
So, how'd that work out? Well, look at the tweet from
Bears
radio sideline reporter
@ZachZaidman
, who tweeted the following in the first quarter: "I'd rather watch players in the Pro Bowl tweet about playing in the Pro Bowl than watch them play in the Pro Bowl."
Indeed, most of the effort given in Hawaii was rather, um, lacking. Which is totally understandable and to be expected. There's no sense in badly injuring yourself in order to triumph in a glorified All Star game. So, no matter the monetary incentive, an extra $25,000 isn't going to make the risk/reward ratio any different.
* For the record, this is similar to what Will Brinson proposed last year when he wrote the NFL should make it a winner-take-all event.

"Make it winner-take-all so that each player's legitimately motivated to win the game and make the Pro Bowl competitive," Will wrote.

Heck of an idea by Will and the NFL. Unfortunately, it didn't work.
The second change, though, really could have been interesting. Well, as interesting as anything else the Pro Bowl could offer.
The NFL relaxed its in-game tweeting prohibition and actually set up computer stations on the sideline so players could instantly translate their in-game ramblings into 140-word thoughts. It was, um, not so exciting.
Or as the
Newark Star Ledger's
@StevePoliti tweeted, "Tweeting stations. I turned on the Pro Bowl, and they're talking about tweeting stations."
Here's a sampling of what entered our feed during the game.
@MillerLite40 (
Von Miller
): first series was great!!! it was an honor just to be on the field with all the guys!!!! #gigem #probowl
@ajgreen_18 (
A.J. Green
): first pro bowl TD!!! blessed!! #probowl
@GregJennings: Having a blast out here... bout to go out on O to catch some more passes!!
@ericweddle1: Truly blessed to be here! Such a amazing atmosphere #GREATFUL
To sum it all up, here's "Late Show with David Letterman" (#onCBS!) head writer
Eric Stangel
, who penned the following, "Remember everyone, with the #ProBowl, this year- it counts! And by "counts" I mean is a complete waste of everyone's time."
For more NFL news, rumors and analysis, follow

@EyeOnNFL

on Twitter, Like Us on Facebook, subscribe to our NFL newsletter, and while you're add it, add our
RSS Feed
.