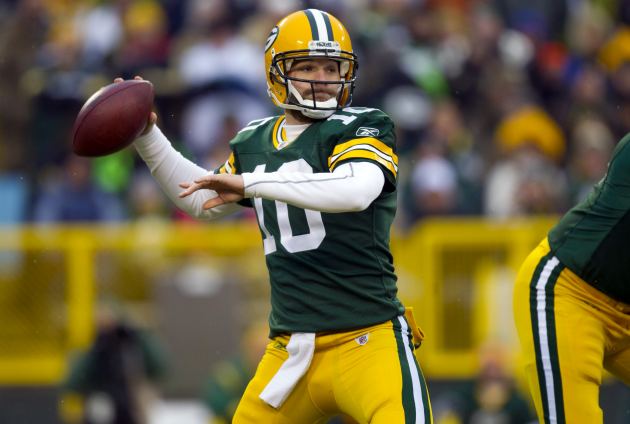 By Josh Katzowitz
People can't seem to help but get excited about
Packers
and soon-to-be free agent quarterback
Matt Flynn
. Although he's only started two career games in four seasons, all spent backing up
Aaron Rodgers
, his time on the field has been productive. Hell,
it's been record-setting
, like when he set franchise marks with 480 passing yards and six touchdowns in Green Bay's Week 17 win vs. the
Lions
.
Since that performance, the
Redskins
and
Dolphins
reportedly have had interest in obtaining his services, and though Miami could very well go after
Peyton Manning
if the
Colts
cut him loose, receiver
Brandon Marshall
reached out to Flynn about making the move to south Florida.
"Obviously, Matt [Moore] had a great year," Marshall said at the Pro Bowl. "You don't want to take anything away from Matt, but I think we really [should] bring in somebody who can compete and make the team better."
That person, in Marshall's mind, could be Flynn, but there are two things to remember before Miami fans welcome Flynn with a ticker-tape parade in South Beach.
1)
Flynn has taken significant snaps only twice in the past two years. Sure, he performed well in both cases -- he nearly beat the
Patriots
in 2010 -- but it's still only two games. That isn't much of a sample size.
2)
Current Dolphins starter
Matt Moore
had a solid year, taking over for
Chad Henne
as Miami's quarterback. Yes, Flynn probably has a more exciting name, though certainly not a better resume, and he has more upside than Moore. But Moore has proven he's a solid quarterback in the league. We can't say that yet about Flynn.
But here's why the Flynn-to-Miami rumblings make sense. New coach Joe Philbin is coming off a strong reign as the Packers offensive coordinator, and though most of us don't know how Flynn performs on a daily basis at practice, you can be sure Philbin knows exactly what Flynn can do. And if Philbin wants Flynn, how could anybody argue that?
"With Matt Flynn, know what he can't do, and make sure you build the offense around things he can do," Lombardi told Ben Volin of the
Palm Beach Post
. "Obviously, Joe Philbin knows him."
Still, that doesn't mean Flynn isn't a risk. After all, remember the $63 million contract the
Cardinals
bestowed on
Kevin Kolb
last offseason, even though Kolb only had a limited resume? How well did that work out for Arizona?
"I don't think it's risky to go get him. I think it's risky to give him $60 million, or give him $20 million over two years like Kevin Kolb," Lombardi told the
Post
. "I think there's a lot of chance for failure there."
For more NFL news, rumors and analysis, follow

@EyeOnNFL

on Twitter, Like Us on Facebook, subscribe to our NFL newsletter, and while you're add it, add our
RSS Feed
.