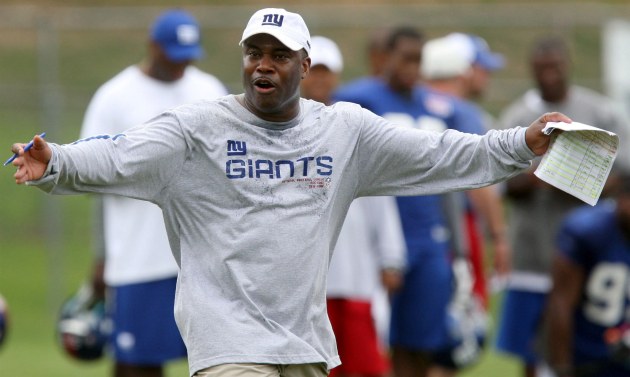 By Josh Katzowitz
INDIANAPOLIS -- Surrounded by the media this week, Perry Fewell could reflect on August and September and talk about the adversity the
Giants
defense faced, when New York couldn't keep its players healthy, and about the adjustments the team needed to make at the time.
Since the Giants will face the
Patriots
in Super Bowl XLVI in two days, Fewell doesn't necessarily have bad memories from those uncertain days. At the time, though, it must have been maddening for the Giants defensive coordinator.
"It was a bad thing for us defensively," Fewell said. "What it allowed us to do, though, was put young players on the field who normally wouldn't play. A
Jacquian Williams
played a significant amount of time. A
Greg Jones
went on the field and played a significant amount of time.
Spencer Paysinger
, he played. It gave guys some experience that normally wouldn't have gotten that experience. We won some games and we lost some games. But we found out who we were at the end."
In training camp, though, the Giants had to wonder if the defense would have enough players to field a team. Among the early-season (or training camp) injuries:
Justin Tuck
,
Osi Umenyiora
,
Terrell Thomas
,
Prince Amukamara
,
Marvin Austin
,
Jonathan Goff
, and
Clint Sintim
. The avalanche of injuries wouldn't end.
"It was all of us trying to figure out a way to make that work throughout the season," Fewell said. "That was an ongoing process. The thing about it was that each week, somebody else went down. We were never able to develop consistency during that stretch.
"When we played some of the young guys, we found out what they could do and what they couldn't do. I said, 'OK, let's put the pieces back and see if we can make these pieces work the way I think they can work.' And it happened."
Though Fewell hasn't gotten much play this year as a future head coach -- in an offseason when most teams hired first-timers to run their squads -- his performance this season in New York should raise his profile even more. He interviewed for a few head coaching jobs last year, but he didn't draw much, if any interest, following the 2011 regular season.
Could be because the Giants ranked 27th in yards allowed this season. Could be the three-week stretch where the team allowed 49, 38 and 34 points in losses to the
Saints
,
Packers
and
Cowboys
, respectively. After that Saints game, though, is when Fewell began to change the attitude of his unit
by angrily berating
his underperforming players.
"He's not a screamer," linebacker
Mathias Kiwanuka
said. "He's not a cusser. But he was animated and he said some things that were heartfelt. They were true, and it needed to be said. We didn't have a good performance that week, and we needed to be called out. He holds himself accountable, and he holds all of us accountable."
After the 2010 season, Fewell received good marks during his head coaching interviews with the
Browns
,
Broncos
,
49ers
and
Panthers
-- though he did pull an 0-fer in actually landing the jobs -- but teams who needed new leadership seemed to forget him about this year.
Fewell thinks about that sometimes. He wonders if he'll ever get his shot.
"It's always beena goal of mine," said Fewell, who went 3-4 as the
Bills
interim coach in 2009. "To win the Super Bowl is No. 1. Then, if that opportunity presents itself in the future, I would love to become a head football coach. But I saw the good and the not so good about it. To be a football coach is to get in and work with the players and see exactly what you can do with them and get them to reach their potential. Sometimes as a head football coach, you're not able to do that. You're an administrator, you're a facilitator. You don't always get to grind with them and have the fun things in the meeting room that's really rewarding in this profession. Hey, I'm happy I'm doing what I do."
But there's also the chance that Fewell could benefit from his extra exposure this week. Maybe accomplishing his ultimate goal will lead him to another of his most important ambitions.
"I think it gives me more marketability," Fewell said. "Now I have the experience of coaching in the Super Bowl, knowing what the preparation is like for Super Bowl week. That adds value to what I can do."
For more NFL news, rumors and analysis, follow

@EyeOnNFL

on Twitter, Like Us on Facebook, subscribe to our NFL newsletter, and while you're add it, add our
RSS Feed
.