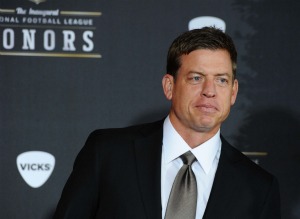 Troy Aikman worries about the long-term viability of the NFL. (US Presswire)
By Josh Katzowitz
While we hear nothing but great things about the health of the NFL -- particularly whenever commissioner Roger Goodell holds a press conference -- and see the ratings continue to rise, former
Cowboys
star quarterback Troy Aikman, who moonlights as an NFL analyst on a non-CBS network, isn't quite as optimistic.
Though the NFL has continued to gain in popularity since … oh, let's say … when the AFL was established in 1960, Aikman can see a day in the future when pro football isn't necessarily the No. 1 sport in this country. For Aikman, it's all about the long-term viability of the league, and when a sport becomes oversaturated among the public, that's not great news.
"At one time, watching football was an event," Aikman told the
L.A. Times
. "
Monday Night Football
was a big event. Now you get football Sunday, you get it Monday, you get it Thursday and, late in the year, you get it on Saturday.
"People in Los Angeles realized, 'You know what, life's OK without the NFL.' If I'm an owner, I don't want any fan thinking that."
One big struggle Aikman points to is the NFL Network. While the network, in my view, does a mostly-wonderful job in covering the league, there's a big problem the NFL has not solved. As in, much of the country doesn't have access to the channel.
"All of sudden, fans, me included, were saying, 'I wasn't getting the Thursday night game and I was OK with that,'" Aikman said. "That's not a good thing."
That's true, especially since the league will add more games to the Thursday night lineup, meaning that'll be five more games next season fans can't see on the networks or ESPN.
If there's any reason I can think of to agree with Aikman, it's based on what he said last year when discussing the concussion issue that simply won't go away (nor should it).
"I think that we're at a real crossroads, as it relates to the grassroots of our sport, because if I had a 10-year-old boy, I don't know that I'd be real inclined to encourage him to go play football, in light of what we are learning from head injuries," Aikman said on HBO's
Real Sports.
"And so what is the sport going to look like 20 years from now?"
But other than the concussions issue -- which, to me, doesn't seem to have many fans (or players) all that concerned -- I'm not sure if I buy the theory that the NFL's wings will melt away* because of a supposed sense of hubris.
*Icarus clearly would disagree with this statement.
"I think we're going to look back at this point in time and say these were the missteps that the National Football League took that kept football from being the No. 1 sport," Aikman said.
"I believe, and this is my opinion, that at some point football is not going to be the No. 1 sport. You talk about the ebbs and flows of what's popular and what's not. At some point, the TV ratings are not going to be there."


For more NFL news, rumors and analysis, follow

@EyeOnNFL

on Twitter, Like Us on Facebook, subscribe to our NFL newsletter, and while you're add it, add our RSS Feed.