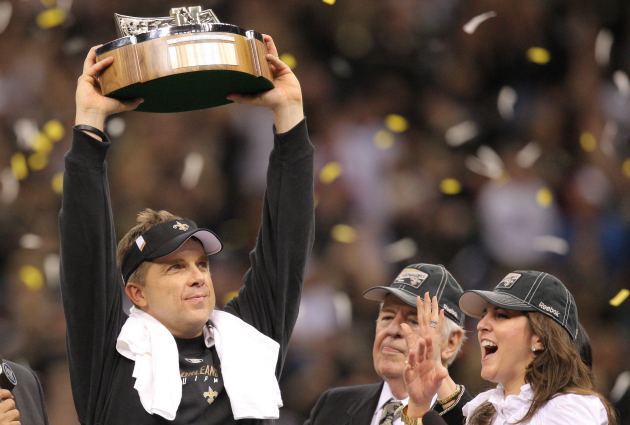 According to the NFL, New Orleans coach Sean Payton didn't try to stop the bounty program, while owner Tom Benson, center, did try but ultimately failed. (US Presswire)
By Josh Katzowitz
In a stunning announcement, the NFL has released the news of an investigation into a team-wide bounty program in New Orleans in which at least one coach and about two dozen players conspired to intentionally hurt opponents and knock them out of the game for money.
Between 22 and 27 players, and at least one assistant coach maintained this "pay for performance" bounty program, violating league rules in 2009, 2010 and 2011.
And the knowledge of the program reaches all the way into the owners box.
Saints
owner Tom Benson -- who was cited by the league as giving his "immediate and full cooperation to investigators" -- told general manager Mickey Loomis to end the program immediately when he became aware of it in 2011. According to the NFL, "the evidence showed that Mr. Loomis did not carry out Mr. Benson's directions. Similarly, when the initial allegations were discussed with Mr. Loomis in 2010, he denied any knowledge of a bounty program and pledged that he would ensure that no such program was in place. There is no evidence that Mr. Loomis took any effective action to stop these practices."
According to the NFL, the funds of the bounty pool -- to which players regularly contributed and which was administered by former defensive coordinator Gregg Williams, now with the
Rams
-- might have reached as high as $50,000 during the 2009 playoffs. If a player knocked out an opponent, they received $1,500. If an opponent had to be taken off on a cart, a player was paid $1,000. Those payouts could double or triple during the playoffs.
"Our investigation began in early 2010 when allegations were first made that Saints players had targeted opposing players, including Kurt Warner of the
Cardinals
and Brett Favre of the
Vikings
," commissioner Roger Goodell said in a statement. "Our security department interviewed numerous players and other individuals. At the time, those interviewed denied that any such program existed and the player that made the allegation retracted his earlier assertions. As a result, the allegations could not be proven. We recently received significant and credible new information and the investigation was re-opened during the latter part of the 2011 season."
The NFL also found that coach Sean Payton was not a direct participant in the bounty program but that he didn't make an attempt to learn about it or stop it when NFL investigators began asking about it.
Now, it's up to Goodell to dole out the possible punishment. He has told the Saints that he will hold more proceedings and meet with the NFLPA and individual player leaders to discuss the appropriate discipline.
The league notes that "the discipline could include fines and suspensions and, in light of the competitive nature of the violation, forfeiture of draft choices. … Any appeal would be heard and decided by the commissioner."
Said Goodell: "The payments here are particularly troubling because they involved not just payments for 'performance,' but also for injuring opposing players. The bounty rule promotes two key elements of NFL football: player safety and competitive integrity.
"It is our responsibility to protect player safety and the integrity of our game, and this type of conduct will not be tolerated. We have made significant progress in changing the culture with respect to player safety and we are not going to relent. We have more work to do and we will do it."
Here's Benson's statement on the matter: "I have been made aware of the NFL's findings relative to the 'bounty rule' and how it relates to our club. I have offered and the NFL has received our full cooperation in their investigation. While the findings may be troubling, we look forward to putting this behind us and winning more championships in the future for our fans."
For what it's worth, here is one of the last attempts of Warner's career.
For more NFL news, rumors and analysis, follow

@EyeOnNFL

on Twitter, Like Us on Facebook, subscribe to our NFL newsletter, and while you're add it, add our
RSS Feed
.