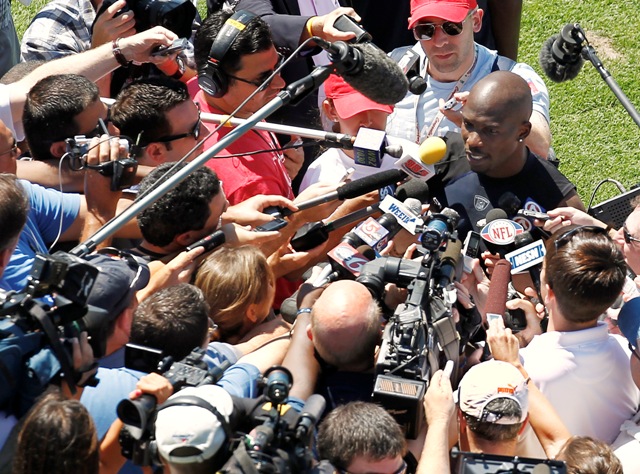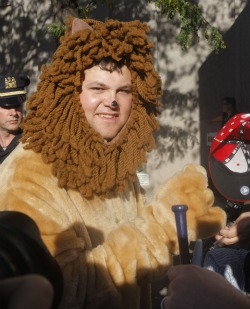 This isn't the lion that apparently peed on Ochocinco. This is actually Joba Chamberlain. (US Presswire)
By Josh Katzowitz
On Saturday, we woke to the somewhat-stunning news that somebody had
leaked a "clandestine" video
showing a quarterback who looked like
Peyton Manning
throwing good-looking passes at what was supposedly Duke University.
On Sunday, we've got even more important news.
Ochocinco has been peed on. By a lion. For some reason.
And late Saturday night, he decided to break that news to the world.*
*And you thought the OCNN was just a passing phase.
"I never go out at night n the night I do I get peed on by a real "Lion" I feel honored, who can say they got peed on by a "Lion,"
Ochocinco tweeted
(sic's and all).
Not only was he breaking news, he was analyzing it.
"I wasn't that close, he sprayed like a water gun RT @mizzmccord: how in the world did u even get close enough to a lion to get pee'd on?"
OK, here's the story, as best as I can piece together. Ochocinco, who talks all the time about how he goes to bed early in the PM, attended a charity event Saturday night, and it featured a lion in a cage. Despite the fact Ochocinco was dressed in his Sunday best, the lion deemed him fit to serve as a firing target and apparently hosed down the
Patriots
receiver.
What further incensed Ochocinco? The dastardly lion didn't take aim at Ochocinco's fiancé. All of which led Ochocinco to one conclusion.
"Tonight's mishap is one of the reasons why I'm always sleep by 8:30, nothing good happens after 9pm," Ochocinco wrote. "I love you n goodnight."
For more NFL news, rumors and analysis, follow

@EyeOnNFL

on Twitter, Like Us on Facebook, subscribe to our NFL newsletter, and while you're add it, add our
RSS Feed
.