Clippers trade Baron Davis and a first-round draft pick to Cleveland for Mo Williams and Jamario Moon.
Posted by Royce Young
and Matt Moore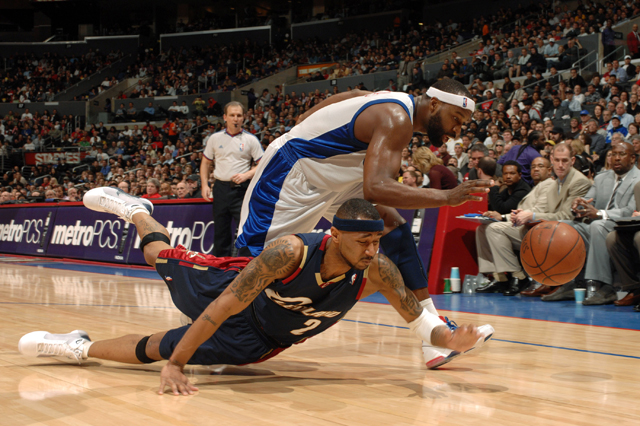 UPDATE 12:55 a.m.:
Yahoo! Sports reports
that the Clippers and
Cavaliers
have agreed in principle.
ESPN
and the
Cleveland Plain Dealer
both confirm, among others. The full deal sends Mo Williams and Jamario Moon to the Clippers for Baron Davis and an unprotected first-round pick. Which makes it interesting.
Moon provides some depth for the Clippers at the 3-spot, but it also means they can now get creative with more deals for what they currently have, including moving
Ryan Gomes
possibly, with the potential shown in Al Farouq-Aminu. Williams for Davis is largely a meangingless swap, so in actuality as far as talent goes the Clippers flipped Jamario Moon for a first round, unprotected draft pick. That, of course, isn't the whole story, though.
For a deeper look into why this deal was done? Follow the money, stupid. Baron Davis is on the books for close to $14 million next season, but has an early termination option for 2012. He'll turn 33 that summer, so the odds of him exercising that option are slim. However, it does mean that should the Cavaliers be able to buy out Davis should he wish to return to California or the East Coast in order to support his film ventures, they could end up saving some cash. If not? Davis at least is a more willing passer (shocking, I know).
Davis has an assist percentage (percentag of team assists dished) in his career of 36.2%, including 40.1% this season since he's been throwing oops to
Blake Griffin
all day long. Still, Mo Williams has no teammates, and his AST% is 43.0% through 36 games this year. For his career, Williams only averages a 27.9%. He likes to shoot.
There were significant questions about Davis in regards to how he would take being second fiddle to Blake Griffin this season, but he's performed admirably, surprisingly. That he was traded is confusing for the Clippers in a basketball sense. However, they will save quite a bit in this deal. If all player options are excercised and no early termination options are, Williams will cost the Clippers $17 million through 2012-2013. Davis, on the other hand, will cost the Cavaliers over $28.5 million through the same amount of time. Either these two think they can talk the players into exercising options which would cost them significant money as they get older, or else they really do value the play their new guys bring.
For what it's worth, Byron Scott worked with Davis in New Orleans before his departure, not that that combination worked out well. Williams does bring a younger point guard with scoring ability to the Clippers. If nothing else, this is a fresh start for Williams after all the turmoil of 2010, and another stop in the long road of Boom Dizzle. You have to wonder if
Antawn Jamison
will be moved in the remaining hours before the deadline as Cleveland starts up a firesale.
The real win for Cleveland is the pick, which is the Clippers'
2011 first-rounder, unprotected
. For Cleveland, that's actually worth the price of Baron Davis. Even in a weak draft as the upcoming lockout affects freshman declarations, it's still what will surely be a top 15 pick at the very least, and possibly higher. That, teamed with their own pick should get them on the right track, towards, well, somewhere better than where they're at. Better yet, with Moon's expiring, the Clipper save a little bit as they continue to clean house to make another free agent run in 2012, only this time with Blake Griffin as the bait. This is a good deal that just looks terrible. Or an okay deal that doesn't look great. Somewhere in there.
There is no word at this hour whether Dan Gilbert will announce the signing in Comic Sans.
*************************
According to NBA.com,
the Cleveland Cavaliers and Los Angeles Clippers are discussing a deal that would send Baron Davis to the Cavs for point guard Mo Williams. The report says the deal isn't close yet, but the teams will keep talking up until Thursday's deadline.
Davis was held out of the Clippers Wednesday night game against the
Hornets
because of a sore knee. Fishy. Williams though played for the Cavs against the
Rockets
.
The way this trade would work is because the Cavs could take in Davis' $13 million because of the big trade exception they got from the
LeBron James
sign-and-trade deal with Miami.
I'm don't really understand the benefit of this trade for either side as it kind of seems lateral for both parties involved. The Clippers would like to unload Davis' contract for sure, but he seems to have a good thing going with Griffin. And while Williams isn't incredible, is he worth giving up for Davis and his $13 million salary?
Like the report said, this isn't close yet and like a lot of other stuff, it might just be talk.