If there is one certainty in this great sport, it is that baseball belongs in Brooklyn.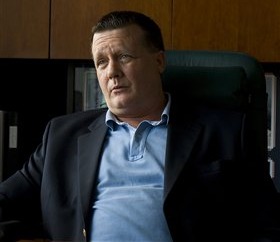 Returning baseball to Brooklyn would be creating the Field of Dreams of the modern era. It would reunite the present fans with one of the most historical baseball areas of the past. For 54 years now, the Brooklyn borough of New York has been without a major league baseball team as the Brooklyn
Dodgers
moved west to Los Angeles.
That needs to change soon.
Moving a team back to a historical area like Brooklyn would draw more attractiveness to the game. In addition, it could solve some of Major League Baseball's more pressing problems such as revenue sharing.
Yankees
owner Hank Steinbrenner recently expressed his discord with the current revenue sharing system in baseball and is calling for it to be fixed.
"We've got to do a little something about that and I know Bud (Selig) wants to correct it in some way," Steinbrenner said. "There's a way. Obviously we're very much allied with the Red Sox, Mets, Dodgers and Cubs in that area. At some point if you don't want to worry about teams in minor markets, don't put teams in minor markets or don't leave teams in minor markets. Socialism, communism - whatever you want to call it - is never the answer."
Red Sox owner John Henry was also fined by the commissioner's office for criticizing the current revenue sharing program as well.
Well, if the solution is to stop putting teams in minor markets, then that leaves only one conclusion for Major League Baseball. Move some of the small market teams to larger markets. Brooklyn, after all, is the largest of New York's five boroughs consisting of roughly 2.5 million people. If Brooklyn were its own city, it would be one of the largest in the nation. Not counting any fans that might travel from outside of New York City, the population size of Brooklyn is much larger than many of the territories some of the small market teams are given.
With the Oakland A's and Tampa Bay
Rays
searching for new stadium deals, the time couldn't be more right for a team to move.
The Oakland
Athletics
have been searching for a stadium for over a decade now with no success. Even under new ownership, the A's have not been able to reach a stadium deal. The team currently plays in the Oakland Coliseum, which was first built in 1966. It is the fourth oldest stadium in Major League Baseball behind Dodger Stadum (1962), Wrigley Field (1914) and Fenway Park (1912). The team has all but ruled out building a new stadium in Oakland and an attempt to build a field in nearby Fremont fell threw. The A's one last chance effort to keep the team in California is a proposal to move the team to San Jose, but talks of such a move have been slow to proceed. With the A's stadium lease to expire following the 2013 season, the team is running out of time to consider staying in California.
Meanwhile, in Florida, despite a World Series appearance in 2008 and an American League East title in 2010, the Tampa Bay Rays have failed to draw fans to their ballpark. If the Rays are to remain in St. Petersburg, the only way they can succeed is with a new stadium. The teams current facility, Tropicana Field, is baseball's version of a cheap, outdated, warehouse in which the Rays play their home games. Tropicana Field originally broke ground in 1986 with the hope of attracting a Major League Team. However, after Major League Baseball owners vetoed the
Giants
proposed move to the area in 1992, Tampa Bay was left without a team in the stadium until 1998, 12 years after the stadium was originally constructed.
Moving either of these teams to Brooklyn would result in large market teams such as the Yankees, Red Sox, Mets, Cubs, Dodgers, and
Phillies
paying less in revenue sharing as it would mean one less team receiving a revenue sharing paycheck.
There is nothing to suggest that a team could not thrive in a baseball area like Brooklyn.
Despite the presence of both the Yankees and the Red Sox, the Brooklyn Dodgers were extremely succesful at drawing fans to the gate. During the teams last five seasons in the league from 1953-1957, the Dodgers had one of the highest attendances in baseball averaging just over a million fans per season. One of the main reasons the team left Ebbets Field for the City of
Angels
was that they wanted to build a new stadium that would allow for more fans to attend their ballgames. Had New York City Building Commissioner Robert Moses not opposed the idea of a new ballpark in Brooklyn, the Dodgers may very well still be there today.
In 2001, the New York Mets moved their class A short season team to Brooklyn and they were rechristened the Brooklyn Cyclones. Since then, the Cyclones have had much success in the area. With a stadium capacity of just 7,500 (though rather large for a short season A ball team), the Cyclones have sold out every year since.
The major issue facing Major League Baseball today about whether or not a team should move to Brooklyn is the territorial rights of both the New York Yankees and the New York Mets. Each team, more than likely, would be opposed to such move in fear of a third New York team eating into the teams profits. Major League Baseball's Commissioner, Bud Selig (left), would also likely never endorse such a move. Selig, after all, was quoted as saying that he considered territorial rights to be "sacred".
But why should the Mets and Yankees have a problem with it? And why are territorial rights "sacred" at all?
After all, it was Hank Steinbrenner who suggested MLB stop putting teams in minor markets. Why is it, that just because one team is in an area, they should own the rights to those fans? If an area can support more teams, and they wish to have a team come to their city, nothing should stop them.
In the early part of the 20th century, their existed multiple teams in the New England area. Boston had both the Red Sox and the
Braves
while New York consisted of the Yankees, Dodgers, and Giants. Meanwhile, Chicago currently has the Cubs and the
White Sox
occupying that territory rather succesfully as well.
When did this idea of territory rights become so important?
Ironically, it dates back to the 1960's. Territory rights were originally adopted by Major League Baseball to form an agreement between the Los Angeles Dodgers and the Los Angeles Angels. Under the newly established Major League Baseball rule, a team may only move into a new territory such that 3/4 of the owners consent to the move, the stadiums are more than 5 miles apart (unless the two owners agree otherwise), the new team pays the existing club $100,000, and there be no more than two teams allowed in the territory.
The last part of the rule seems ludacris, considering an area like New York City, with 8.4 million people, could easily support 3 teams.
Getting 3/4 of the owners to approve a move is one difficulty, but getting them to alter a major league baseball rule is one that may be the breaking point for any team hoping to make a move to an area like Brooklyn. As such, it's a shame as baseball would benefit as a whole if New York had a third team, just as it did half a century ago. Brooklyn is a prime location for baseball. With its rich history and high population density of passionate fans, baseball belongs in Brooklyn.
The commissioner's office just doesn't realize it yet.