Kevin "Kimbo Slice" Ferguson is up next in a pseudo grudge match from
The Ultimate Fighter 10,
facing Matt Mitrione at heavyweight.
This is another fight where Kimbo's progress in the ground game shouldn't be such a big issue. Kimbo walks to the cage draped in a Bahamian flag and with American Top Team trainer Ricardo Liborio in tow.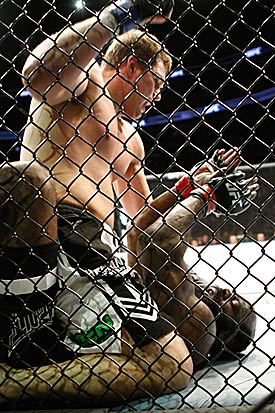 Round 1:
Mitrione has been grinning from ear to ear since the introductions. Kimbo throws a right hook. Mitrione throws a high kick. Kimbo catches the leg, lifts Mitrione up and slams him down to a huge crowd reaction. Mitrione immediately goes for a triangle choke. Kimbo tries to slam his way out of it. It doesn't work right away, but eventually Kimbo breaks loose and takes side control.
Kimbo's not terribly busy on the ground, throwing a token strike here and there. Mitrione locks up one of his legs for half guard. Mitrione gets an underhook and escapes to his feet. Kimbo lifts him and slams him down again. Kimbo working from Mitrione's full guard now. Mitrione is going for the triangle choke one more time. Kimbo slips out of it and decides to let Mitrione up.
Kimbo with a pair of fists that connect lightly. Mitrione whiffs on a high kick. Kimbo with a pair of jabs as Mitrione slaps on a Muay Thai clinch and hurts Kimbo with a knee to the face. Kimbo with another jab and Mitrione sweeps him off his feet with a leg kick. Mitrione slaps on a choke and tries to finish, but Kimbo survives the round. 10-9 Mitrione. Kimbo's in trouble here.
Round 2:
Mitrione still smiling big. He's got just a hint of crazy in him, I think. Straight left by Mitrione, Kimbo misses with a right hook. Leg kicks by Mitrione. Kimbo is huffing and puffing, and now, he's limping. Several more big leg kicks. Mitrione tries another Gator roll choke, then lets it go.
Mitrione throws a head kick and Kimbo blocks it. Mitrione staggers Kimbo with a boxing combo and a knee to the body. Kimbo's now on the canvas, looking spent. Mitrione has an anaconda choke, then lets it go to throw some big knees to the legs and body. Mitrione takes full mount and begins hammering away at Kimbo's head. This is a straight-up mugging. Kimbo eventually just rolls to one side and covers his head until referee Dan Miragliotta stops it.
Winner: Matt Mitrione
defeats
Kevin "Kimbo Slice" Ferguson
via TKO due to strikes at 4:24 of Round 2.