Cain Velasquez pulled a Brock Lesnar on Brock Lesnar Saturday night.
Velasquez became the UFC heavyweight champion with a convincing TKO win over Lesnar at 4:12 of Round 1, causing the live crowd at UFC 121 to go in hysterics cheering for the kind-natured but highly skilled young fighter.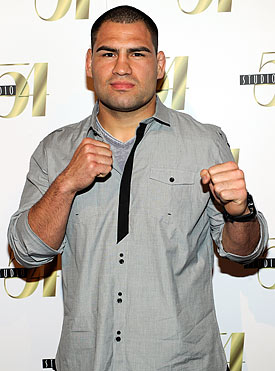 Lesnar was every bit the oversized, overly grumpy and freakishly strong athlete in this fight that he had been in his victories. But another of his more pronounced personality traits is his lack of patience. That came through in a series of awkward mistakes, such as swatting, backfisted jabs and an almost comical stumble across the cage to escape from a takedown.
You can't make mistakes like that at the championship level and expect to remain the champion. Especially not with a guy like Velasquez ready to capitalize on every error. Not only did Velasquez make the best of Lesnar's mistakes, but he also negated the things Lesnar did right. The result was a Brock Lesnar fight in which Lesnar, for the second time in as many fights, played the role of the punching bag.
Lesnar came out fast with fists and knees, including an uncharacteristic flying knee. He established a breakneck pace in the opening seconds against an opponent that figured to have the clear endurance advantage. First mistake.
Lesnar took Velasquez down to the mat, but Velasquez -- himself a stud collegiate wrestler before entering MMA -- scrambled to his feet before suffering any real damage. Velasquez answered with his own takedown, and even though Lesnar escaped to his feet after some fists on the ground, it seemed the psychological damage may have been done. Lesnar's not used to fighting guys he can't hold down, let alone guys who can pop right back up and give him a receipt.
Brute force and elite-level wrestling were not going to be enough to beat Velasquez. Lesnar reacted to this by throwing all form out the window and swatting wildly at Velasquez and trying to muscle his way back into an advantageous position.
Second mistake.
Velasquez was known before the fight to have the far better striking technique. Lesnar may or may not have possessed the heavier hands, but that doesn't matter. Both men hit hard enough. Velasquez clearly hurt Lesnar with a knee, and from there, Lesnar went into full-on retreat mode.
Velasquez threw strikes. Lesnar covered up. He simply did not have the skill or strategy to quickly adjust to Velasquez's onslaught. As a result, we have a new UFC heavyweight champion, with a perfect 9-0-0 MMA record and a whole lot of upside.
Velasquez is only going to get better, folks. Ponder that for a minute.
As for Lesnar, there will be those who claim he was exposed by this loss. If you didn't realize he was green before, then yes, this loss probably opened your eyes a bit. But Lesnar was never known for being well-rounded.
What worked for Lesnar up until Saturday night were his size, strength, wrestling ability and incredible self-confidence. Save for possibly that last one, Lesnar still has all of those attributes. And that's still more than enough to earn victories over just about anybody other than Cain Velasquez. This is not the end of Brock Lesnar, title threat. Champions need contenders. Until somebody else can do to Lesnar what Velasquez did, Lesnar will be that guy, sooner or later.
But right now, it sure doesn't look as though anybody can beat Cain Velasquez at his best. And at 28, he's just getting started.