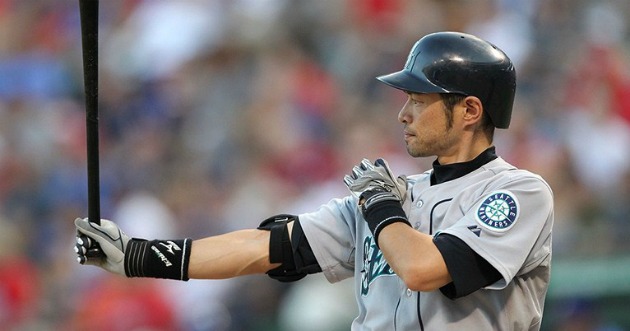 By C. Trent Rosecrans
In the end, lineup construction has been shown not to matter much, but this time of year it always becomes a topic of discussion, because, well, there are no games.
Since
Ichiro Suzuki
joined the
Mariners
, the Seattle skipper du jour has had an easy start when filling out his lineup -- writing Ichiro in first and then figuring out the rest from there. Ichiro's batted leadoff in 1,722 of the 1,749 games he's played with the Mariners in the last 11 years.
Eric Wedge said Wednesday night in a radio interview that he was considering moving Ichiro from the top spot and reiterated those comments on Thursday at the Mariners' spring training luncheon. Here's exactly what he said,
from Larry Stone of the Seattle Times
:
"It's as much to do about his teammates as it does with him -- in regard to the collective nine we're putting down on paper. I haven't made any firm decisions. I've made it very clear over the course of the winter I'm thinking about it. I'm even further down the road to where I'm leaning in that direction to have Ichi hit somewhere else.

"I know it's a big deal to everybody. I can't get caught up in that. My job is to make sure I communicate that to Ichiro, make sure everyone understands what the options are, and what they're fighting for, and what I'm thinking about. That's what I'm going to continue to do.

"Right now, I'm going to be very open-minded to what I'm going to do, but I'm going to go into spring training leaning a certain direction. And we'll make the decisions from there."
As for where Ichiro would hit? Wedge said he's thought about all three of the top three spots in the lineup, including leadoff. And who would lead off? The candidates, in addition to Ichiro, are
Dustin Ackley
,
Chone Figgins
and
Franklin Gutierrez
.
Suzuki is coming off a career-worst .272/.310/.335 season with 40 stolen bases. He has a career .370 on-base percentage. The problem may be that the candidates to replace Ichiro aren't going to be any better. Figgins has been an unmitigated disaster in Seattle and hit just .188/.241/.243 last season, but does have a career .352 OBP and even put up a .340 OBP in 2010, his first year in Seattle. Guiterrez was plagued by a mysterious stomach ailment the last two seasons and put up a .224/.261/.273 line last season and has just a career .308 OBP. Ackley hit .273/.348/.417 last season, but that was in his only 90 games in the big leagues.
As most lineup discussions this time of year, it's purely conjecture and subject to change once games starts, injuries happen and performance patterns take shape. But when it does happen, it will seem pretty odd for Ichiro not to lead off games for the Mariners -- but not as odd as seeing him in a different uniform. Ichiro is in his last year of his contract with the Mariners and could easily be in his last season in Seattle.
For more baseball news, rumors and analysis, follow @EyeOnBaseball on Twitter, subscribe to the RSS feed and "like" us on Facebook.