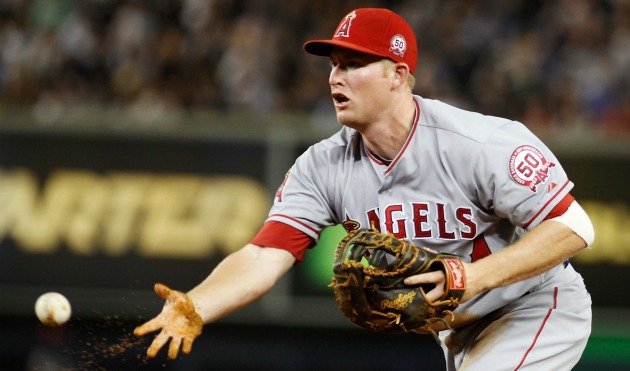 By Evan Brunell
Not much went right for the
Angels
in 2011, but one thing that did was the emergence of
Mark Trumbo
.
The rookie first baseman ended up spending much of the year at first base after
Kendrys Morales
failed to return from an injury that wiped out much of his 2010 as well. While he had an awful .291 OBP, he also hammered 29 home runs, leading the team in that department despite ending the year with a stress fracture in his right foot with days left in the season. Trumbo is set to meet with a foot specialist on Friday and anticipates being cleared for full-bore offseason workouts.
"The foot is great. No pain whatsoever. No discomfort," Trumbo told the
Orange County Register
. "As soon as I get the clearance, [off-season workouts] will start to get pretty intense pretty quick."
As part of his offseason workouts, Trumbo will try his hand at third base -- a position he has never played in a game professionally, although he came to the Angels as a third baseman before the team determined his defense simply would not take at the position. In a perfect world, the Angels would love to move Trumbo to third base and address a position that has been a problem for Los Angeles lately. The shift would free up first base for Morales, who is expected to start the season healthy. With all outfield positions and DH occupied, Trumbo stands to lose the most playing time, so adding third base to his arsenal would be huge.
"[Manager Mike Scioscia] called and we talked about things. It is going to be explored," Trumbo said. "It was pretty cut and dried. He said, 'I know you've heard a lot of talk about this. We'd like to give it a look at least and if things look okay, we'll explore it further. If not -- no harm done.'"
Scioscia, for his part, said at the end of the season that Trumbo's chances of becoming a starter at third were a longshot -- but he'd be happy with the ability to plug the 25-year-old at the spot on occasion.
"I think where you could see Mark playing third [is in a part-time role]," Scioscia said. "As you study spray charts with some of our pitchers and you had a sinkerball pitcher that has a lot of left-side action, you want a third baseman who is very, very proficient. If you have a fly-ball pitcher who has a spray chart with virtually no left-side action, you can spot a guy who can make the routine play and not have to bring the range some other guys do.
"I think the experiment with Mark is not to see if he's going to be a 162-game third baseman. But if he becomes a 50- to 60-game third baseman, it will deepen your lineup to have his bat in the lineup with some of the other guys we have projected to either return to our lineup or bounce back."
GM Jerry Dipoto hasn't addressed Trumbo specifically, but he would likely agree with Scioscia. Dipoto told
ESPN's Jim Bowden
that the Angels are not interested in third baseman
Aramis Ramirez
, as it would go against the team's goal of run prevention, which can only be accomplished through pitching and strong defense. But any ability to play third would help Trumbo. Otherwise, at-bats will be hard to come by as a backup first baseman and occasional fill in in the outfield corners.
"I'm looking forward to it, no doubt," Trumbo said. "I'm not kidding myself about how easy it's going to be. But in the interests of helping the team and helping my career out, I'm excited about giving it a try."
For more baseball news, rumors and analysis, follow @EyeonBaseball on Twitter or subscribe to the RSS feed.