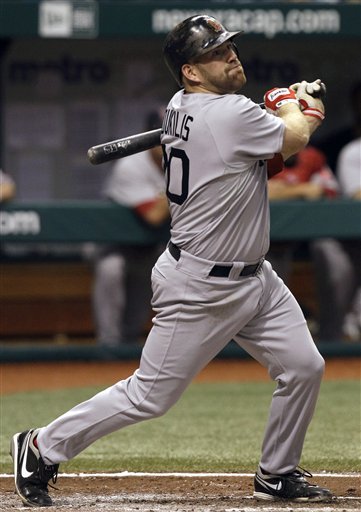 Oh, the suspense!
In another Yankee-Red Sox battle we're being hit over the head with,
Nick Swisher
holds "the slimmest of leads" over
Kevin Youkilis
in the American League Final Vote for the All-Star Game, despite nobody making a convincing case for Swisher other than his uniform, based on the
latest results released by MLB.com.
In what can only be a desperate attempt by Major League Baseball's website to generate page views (since all voting takes place on the site), MLB.com has seen fit to release a breathless update to the (unlimited) voting that ends today at 4 p.m.
The winner of the final spots will be announced on MLB Network (yay synergy!) at 6 p.m.
Joey Votto
still leads the National League voting (funny what leading the league in homers and OPS will do for you), but, the site warns -- without giving any numbers --
Carlos Gonzalez
has passed
Billy Wagner
for third place in the voting.
Ryan Zimmerman
is still in second.
Heath Bell
was removed from the ballot when he was placed on the team as a replacement for
Yovani Gallardo
.
In the American League, it's all
Yankees
-Red Sox all the time. The release says it's a "virtual tie" between Youkilis (.292/.409/.574 with 17 home runs, 55 RBI) and Swisher (.298/.376/.518 14 HR, 48 RBI, one appearance on "
How I Met Your Mother
" -- CBS can play the synergy game too!), but not a real tie, because that would mean they're tied, as opposed to a "virtual tie" which goes back to the ol' tie goes to the Yankee rule.
Paul Konerko
is in third place in the AL voting, followed by
Michael Young
and
Delmon Young
.
-- C. Trent Rosecrans

For more baseball news, rumors and analysis, follow @cbssportsmlb on Twitter.