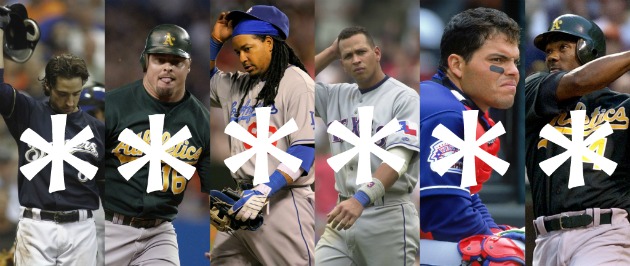 By C. Trent Rosecrans
The whispers and suspicions of steroid use have already seem to keep one player with no-doubt, sure-fire numbers out of the Hall of Fame. Despite a lack of concrete evidence or failed drug test, Jeff Bagwell and his 449 home run, career OPS+ of 149 and 79.9 WAR is left outside of Cooperstown and will likely still be on the outside after results of this year's balloting are announced on Tuesday.
Next year's ballot will have the greater test of what the use of performance enhancing drugs means to the Hall of Fame -- if Barry Bonds and Roger Clemens can't get into the Hall because of their ties to PEDs, it's unlikely anyone will.
But we've seen Bonds and Clemens in federal court. Mark McGwire admitted his use and Rafael Palmeiro tested positive. The only test Bagwell has failed is the eyeball test. And that mark has kept him out of Cooperstown. It's unlikely he'll be the last to fail that test.
As we continue the look at the future of the Hall of Fame and the candidacy of players active today, there's no more interesting category than the asterisk guys -- some who have tested positive for PEDs, some who have been rumored to have used them, some who have been suspected and some who just don't pass the eyeball test.
Ryan Braun -- No matter what happens in Braun's appeal or the rest of his career, he will always wear the scarlet letter of a failed drug test on his chest. Braun isn't the first MVP winner to be linked to steroids, but he is the first to fail a test in the same year he won the MVP.
At 28, Braun's exploits on the field are yet to be Hall-worthy, but like Bagwell he already has a Rookie of the Year trophy, as well as an MVP by the time he turned 27. There's nothing in Braun's Baseball-Reference.com page that suggests he won't someday have a case to be enshrined in Cooperstown. In his first five years in the big leagues, he's averaged more than 30 homers a season, finished in the top 5 in MVP voting twice, bringing home the trophy this year. In each of his first five seasons, he's earned MVP votes and he's seemingly getting better and better every season. If it weren't for the news of his failed MVP test, he'd certainly be on Saturday's list instead of this one.
Jason Giambi -- A very good player with a good career, Giambi will instead be defined as one of the poster children for the steroid era. Even without the asterisk, Giambi's bid for the Hall would be difficult. Even playing in an offensive era, Giambi was an exception offensive player, putting up a .281/.404/.525 line through the 2011 season, hitting 428 home runs.
In the minds of many, Giambi's case is shut by his performance with the Yankees, where he failed to meet expectations after signing a seven-year, $120 million deal before the 2002 season. The Yankees didn't win a World Series during his tenure with the team, appearing in just one World Series. And then there's the fact the team won a World Series the year after he left.
And then there's the steroids. Giambi reportedly admitted to using steroids during the offseason from 2001 to 2003 and also using human growth hormone in 2003. Giambi's best seasons -- from 1999 to 2003 -- are suspect in the timing of his use of steroids.
Manny Ramirez -- One of the best pure hitters in the history of the game, Ramirez was a controversial figure before being suspended twice for failing drug tests. While there are reasonable objections to Rafael Palmeiro's case as a mere compiler of stats and milestones, Ramirez was a force of nature on the field and an enigma off of it.
Ramirez, who is attempting to play in 2012, has 555 career homers and a .996 career OPS. With 2,574 hits, 1,831 RBI, 1,544 runs and a .312/.411/.585 line, not to mention a stretch of eight consecutive seasons where he finished in the top 10 of MVP voting and two World Series rings, Ramirez was a transcendent talent. He will be remembered by any fan of baseball, he just won't be enshrined in Cooperstown.
Alex Rodriguez -- Rodriguez's case will be much like Barry Bonds -- there's no question he's one of the elite players in the history of the game, but there are also the steroid questions. Rodriguez admitted to using steroids from 2001 to 2003 while he was with the Rangers.
Like Bonds, there will be those who say Rodriguez was a Hall of Fame talent before he allegedly used steroids. And like Bonds, he may finish his career as the career leader in home runs. But unlike Bonds, Rodriguez has admitted to his use of steroids. If Bonds gets in, Rodriguez has a chance. If Bonds doesn't, he doesn't.
Ivan Rodriguez -- Jose Canseco claimed to have personally injected Rodriguez with steroids while the two were teammates in Texas, which is more indictment than anything that has been pinned on Bagwell.
What's different, perhaps, about Rodriguez is that the shadow of steroids is often cast on home run hitters, and while Rodriguez was a very good offensive player -- hitting .296/.334/.464 with 311 home runs and 2,844 hits -- during his career, his defense has always been his calling card. Rodriguez is on the short list with Johnny Bench as the best defensive catcher in the history of the game -- and has caught 201 more games than any other player in the history of the game. While steroids may not have helped him throw out 46 percent of baserunners during his career, if he did use them, they would certainly help his day-to-day recovery and dealing with rigors of catching so many games.
Without the spectre of steroids, Rodriguez is a first-ballot, no-doubt Hall of Famer. But that's not the world we live in. There are voters who, right or wrong, refuse to vote for anyone with a hint of steroid abuse on their resume, and Rodriguez has that, along with the rest.
Miguel Tejada -- Even without steroid accusations, Tejada would be a borderline Hall of Fame selection at best. With his name in the Mitchell Report and connected to Palmeiro's fall, there's probably zero chance he gets in.
Tejada will go down as one of the best offensive shortstops in baseball history, hitting .285/.336/.457 with 2,362 hits and 304 home runs in parts of 15 seasons, winning the MVP in 2002 and finishing in the top 20 six other times. Only Cal Ripken Jr. (345) and Rodriguez (344) have hit more than Tejada's 291 homers as a shortstop.
On the other hand, Tejada at his best was a below-average defensive shortstop and his career OPS+ is 108 and his (Baseball-Reference.com) WAR is 42.5, 22nd among active players behind the likes of Bobby Abreu, Mike Cameron and J.D. Drew. Tejada is unlikely to earn a plaque in Cooperstown, and steroids are probably only part of the reason.

Coming Monday: 2012 Hall of Fame inductee(s) announced
Monday: Looking ahead at the 2013 first-year eligibles
Monday: Looking at the '14, '15 and '16 first-year eligibles
For more baseball news, rumors and analysis, follow @EyeOnBaseball on Twitter, subscribe to the RSS feed and "like" us on Facebook.