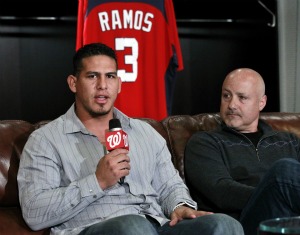 By C. Trent Rosecrans
Wilson Ramos was back in the United States on Friday, but will return to Venezuela in time to play Tuesday night, he said in a brief statement to reporters after a visit to Nationals Park on Friday.
Ramos came to Washington DC to visit with team doctors and front office personnel following his kidnapping last week in his native Venezula.
"It was great, seeing him happy," Nationals general manager Mike Rizzo said in a news conference (via the Washington Post.) "He had a big smile on his face like he usually does. We sat down, relaxed, talked baseball. It'll be all baseball from here on out."
Rizzo said the doctors told him Ramos was in "terrific" shape. He also said the team wouldn't prevent their Venezuelan-born players from playing winter ball in the country. Ramos is scheduled to play for Tigres de Aragua.
"I had no second thoughts," Rizzo said. "He plays for his country, in his country. He's very prideful about his country, and he feels safe there. He plays for his country. He plays in front of his family. We can't ask him not to do that."
Ramos didn't take questions at the news conference, but did make a brief statement (via MASNSports.com): "I just want to say, 'Thanks, Nats fans, for your prayers and your support.' I'm happy to be here. I'm happy to be with my family, and see you in spring training."
And speaking as a baseball fan, it was great to see Ramos and we can't wait to see him safe and sound in spring training.
For more baseball news, rumors and analysis, follow @eyeonbaseball on Twitter or subscribe to the RSS feed.