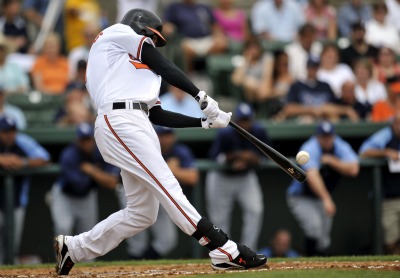 By Evan Brunell
Did you realize that the regular season officially starts this month? OK, OK, so it starts on the 31st and we're only on the first day of March, but still.
Until then, however, we will have to content ourselves with spring training games, and this early into the schedule these games are peppered with scrubs and players trying to get their timing in place for the regular season. And some are a bit further along.
Let's look at some stars and scrubs of the day's games ...
STARS
1. Ryan Raburn, DET: Raburn held off teammate Victor Martinez in a split-squad game (3 for 4, 2 R)
2. Nick Markakis (pictured), BAL: 3 AB, 2 R, 3 H, 4 RBI, 2 HR. Could Markakis reclaim his long-lost power? After bopping 23 in 2007 and progressively declining to just 12 in 2010, Markakis ripped two home runs off Andy Sonnanstine and finished with three hits and four RBI in three at-bats. A return to the top of the best right fielders in the game is possible.
3. Gio Gonzalez, OAK: 2 IP, 0 H, 0 ER, 0 BB, 5 K. What a great showing from Gonzalez, who is slated to be the No. 3 starter for the A's Gonzalez has improved each season in the majors, but last year really benefited from limiting his home runs and playing in a pitcher's park. It's early, but if Gonzalez can limit his walks like he did Tuesday, he could be in line for a real step forward into the elite, and has unquestioned strikeout ability.
SCRUBS
1. Brett Anderson, OAK: 2 IP, 6 H, 4 ER, 0 BB, 2 K. Unfortunately for Gonzalez, his quest for a win was erased by Anderson's clunker. Anderson followed Gonzalez in the game despite being one spot ahead in the rotation. The lefty coughed up four earned runs and six hits in two innings, walking and whiffing two apiece. Better days are ahead for the talented youngster.
2. Andy Sonnanstine, TB: 2 IP, 6 H, 6 ER, 0 BB, 1 K, 5 HR: Poor Sonny. The starter-turned-reliever got a shot at the starting gig again even as he figures to remain in the bullpen. He did himself no favors by coughing up six runs in his two innings of work, striking out just one and giving up an eye-popping five home runs -- two to Markakis and one apiece for Vladimir Guerrero, Adam Jones and Jake Fox.
3. Ricky Romero, TOR: 2 1/3 IP, 5 H, 4 ER, 2 BB, 2 K: After a breakout season, the Jays are counting on Romero to anchor the top of the rotation for Toronto. He certainly didn't get off to a strong start but he didn't give up any extra-base hits, although he was on the hook for Miguel Cabrera's three-run double off Zach Stewart that plated runners Romero put on base.
For more baseball news, rumors and analysis, follow @cbssportsmlb on Twitter or subscribe to the RSS feed.