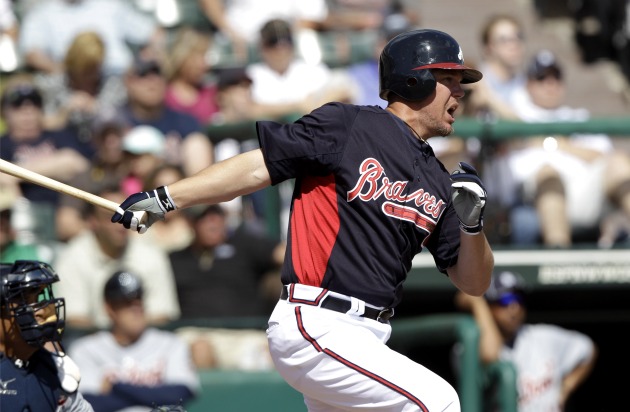 By Evan Brunell
3 UP
1. 3B Chipper Jones, ATL: 2 AB, 1 R, 1 H. For the first time since tearing his ACL, Chipper Jones played first base in a game Thursday, and things turned out just fine. Jones has made a rapid return from surgery and is trying to get used to playing the field again. He fielded a grounder flawlessly and also caught a popup in his four innings of work.
2. SP Brett Cecil, TOR: 3 IP, 1 H, 0 R, 0 BB, 6 K. Quite an impressive game for Cecil, even if it is spring training. The youngster is gearing up for his first full season in the majors and is excited to see manager John Farrell allowing him to throw 60 pitches. "The way I see it, [60 pitches] is just a glimpse of the future of how [Farrell] is going to let us pitchers go deeper into the game," Cecil told the AP. Even though we got a little bit of a high pitch count, I'm extremely happy."
3. SP Neftali Feliz, TEX: 2 IP, 2 H, 0 R, 1 BB, 0 K. Not a bad start for Feliz, who is attempting to convert from closing to starting. The AL Rookie of the Year churned out 36 pitches but is still working on feeling out how much effort to expend with each pitch to ensure he can go deep in games. "I need to find my pace so I can go longer," Feliz said via a translator according to the AP. "I don't know how hard to go so that I can go longer."
3 DOWN
1. SP Randy Wolf, MIL: 1 IP, 5 H, 5 ER, 1 BB, 0 K. Yuck. Not a pretty start for Wolf, but it's still very early and he's likely still rounding into game shape. He's no longer being looked at to top the rotation with the additions of Zack Greinke and Shaun Marcum along with the ascension of Yovani Gallardo, but the Brew Crew still needs a strong season from the lefty in the quest for the division title.
2. SP Troy Tulowitzki, COL: 2 AB, 0 H, 0 R, 0 RBI, 1 K. Tulowitzki was forced to leave the game after whiffing on an awkward swing to end the fourth inning. He was later diagnosed with a bruised right heel, but any injury -- no matter how slight -- to the Rockies' new multi-millionaire and face of the franchise is nothing to feel good about.
3. RF Elijah Dukes, FAIL: Hit pregnant ex-girlfriend. OK, so it was a bit humorous earlier this offseason when word surfaced that Dukes had "retired" from baseball and was intent on a new career as a rapper named Fly Eli. But will Dukes ever learn? He's fathered multiple children by multiple mothers, has a history of violence and threw away a career in the majors. Has he learned? Nope. Will he ever learn? Doesn't look like it. Unfortunately, it may be time to write Dukes off as a redeeming member of society.
For more baseball news, rumors and analysis, follow @cbssportsmlb on Twitter or subscribe to the RSS feed.